Ask Harry: I'm getting married. What should I wear?
FIRST, CONGRATULATIONS! Secondly, you've brought your question to the right place.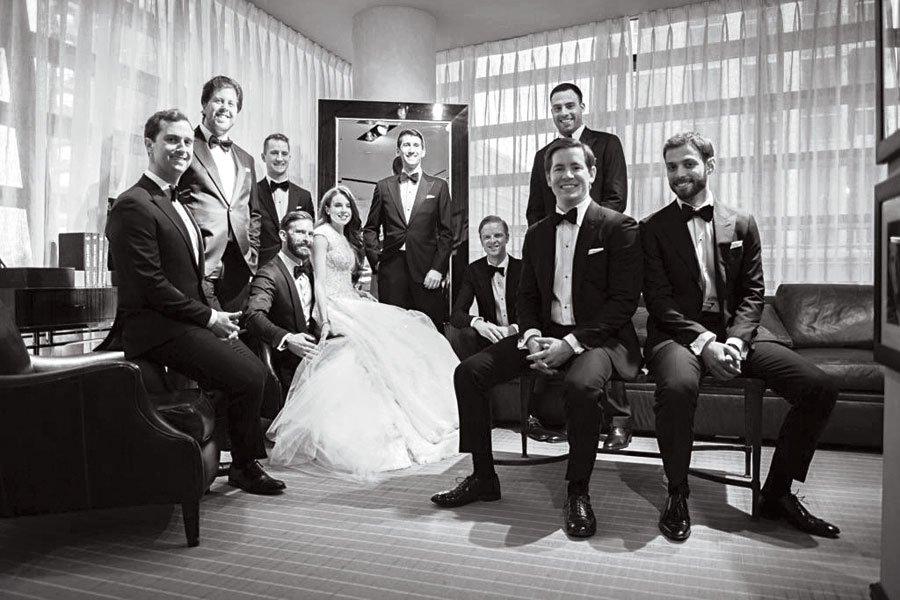 At Harry Rosen, we have been dressing grooms and the men in their wedding parties for more than 60 years. We have a whole process in place to make sure all the details are covered and that you look fantastic on the most photographed occasion in your life.
We have a checklist ready to help you consider all possibilities from bespoke to custom made to ready-to-wear.
HOW WILL YOU BE DRESSED?
That depends on what the bride has chosen to wear. If she's in a formal gown, then the groom and all the men in the wedding party should be in tuxedos, with all the appropriate accoutrements. If she's dressing a little less formally, a dark dressy suit is enough. If it's a cottage or beach wedding, a tan linen suit looks great. Even if the venue is casual, a suit shows respect for the day, for the bride, and for the solemnity of the event.
When it comes to dressing for a wedding, everyone thinks guys have an easy job. But looking and feeling great on your big day is more than just a matter of "putting on a suit." Just like the purchase of that all-important ring, you've got to think of cut, colour, size and style. You also have to consider what your groomsmen are going to wear.
Do you want a classic tuxedo, modern suit, or maybe something a little more laid-back? To cover all your bases allow us to introduce you to Munro Tailoring of Amsterdam. The Dutch brand's impressive scope of customizable options gives you the freedom to create the wedding look you truly desire – right down to the smallest details – think monograms, lining choices, and more.
Because you have a lot of decisions to make leading up to the big day, our expert Clothing Advisors are on-hand to ensure that your suit-fitting process is smooth and simple. First, your Advisor will take precise measurements to guarantee an impeccable fit. Then, you and your groomsmen will select your preferred fabrics sourced from one of Italy's top mills. You'll also get to choose from a plethora of pocket styles, lapel shapes and button types, among other personalized touches.
We can assure you, your wedding party will enjoy using their creativity to hone in on a one-of-a-kind Munro outfit they can wear again and again. Your new suits will come in handy long after the reception winds down.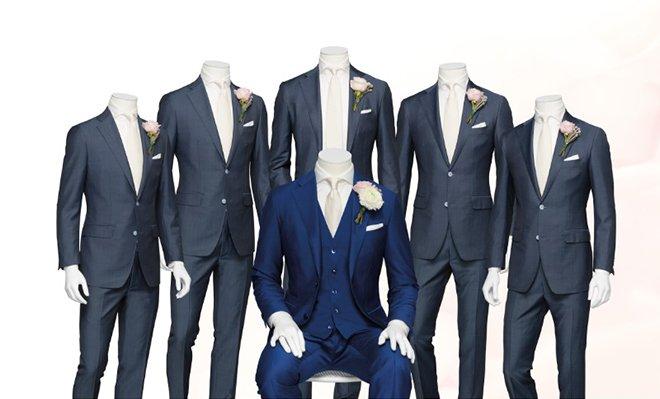 HERE'S WHAT YOU NEED TO DO NEXT
Somewhere between three and six months before your wedding day, make an appointment with your Clothing Advisor. We have a checklist ready to help you consider all possibilities from bespoke to custom-made to ready-to-wear, not to mention all the accessorizing options that will let you personalize your look to chime with the vision you and your bride share for the big day. The process is surprisingly creative and enjoyable. My own son recently got married and while we splurged on a TOM FORD tuxedo for him (he's used it many times since), we brought all the groomsmen into the store one Sunday morning and fitted each of them for a custom-made Atelier Munro suit. They looked spectacular.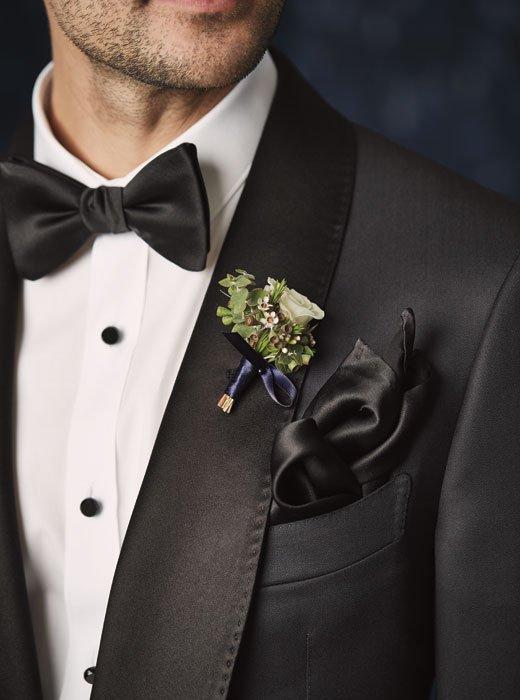 WHY NOT JUST RENT A TUXEDO?
Your bride spent a fortune on her dress, so the least you can do is look great. A rented tux never really fits and it looks, well, rented. When you have a tuxedo of your own, you'll find you use it again and again. Munro's tuxedo package offers great value, from $1,150 (suit or tuxedo with dress shirt and tie or bowtie), and it lets you dress the entire wedding party in similar suits but with personal details. Members of your wedding party can visit any Harry Rosen store in Canada and we'll take care of the coordination.
A rented tux never really fits and it looks, well, rented.
DO I NEED PATENT LEATHER SHOES?
Black patent leather shoes are traditional with a tuxedo and look mighty fine, but black dress shoes are a viable option.
WHAT SHOULD I GET THE GROOMSMEN?
A small gift is a gesture of thanks, but this is not the occasion for a novelty tie. We suggest matching pocket squares, and if you and your bride have chosen a colour scheme for the wedding, you might take your lead from that.