4 Ways To Wear A Blue Sports Jacket
By: TIM GALLANT
Date: 2017-07-11
Every man should own a blue sports jacket.
It's a menswear staple that goes with virtually everything.
The challenge is some men just don't know how versatile a blue sports jacket can be. They stick to wearing their jacket or navy blazer with the same white button down and khakis, not that there's anything wrong with that. But if you're stuck there, you're really not leveraging your investment to its maximum potential. A blue sports jacket can offer so much more.
We caught up with our head buyer Shannon Stewart to help us put together 4 looks all centered around one sports jacket. Keep reading to the see the looks or tune into the video above and let Shannon guide you through her choices.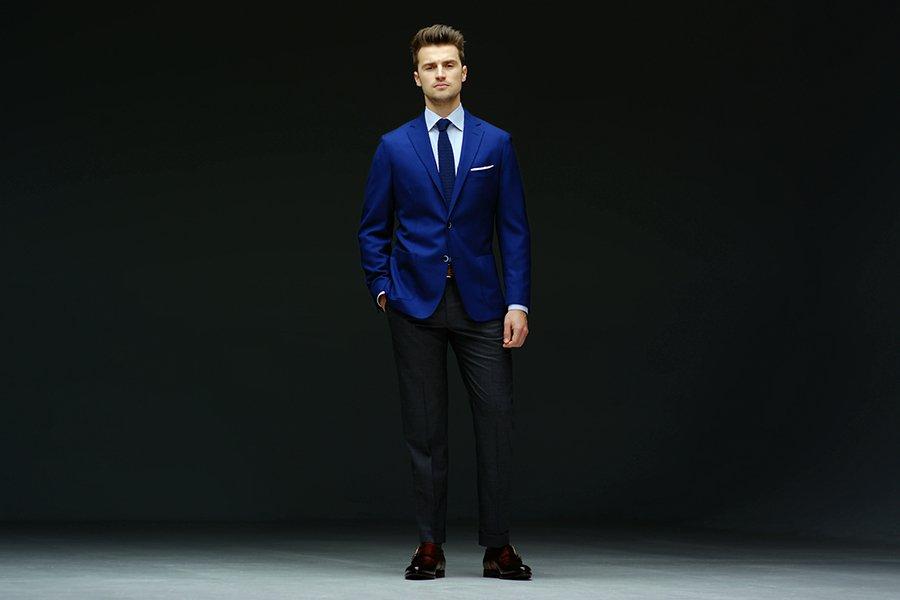 1. Business
In this example, we've dressed our blue jacket for business. This is great for an occasion where a suit is not required, it's not that formal of a situation but you still want to look polished and professional.
A grey wool dress pant is the perfect complement to this jacket. It's also going be extremely versatile in your wardrobe and will work back to other jackets as well.
In terms of the shirt and tie, we've chosen a classic mini check shirt with a blue background and paired it back to a navy blue knit tie. The texture of the knit tie adds a little bit of interest to the whole outfit. In terms of the pocket square, we've kept it simple. Just a clean, crisp white one in a square fold.
For the shoes and belt, a rich brown leather works best. And, as always, make sure your shoes are well kept so that they don't detract from the rest of your outfit.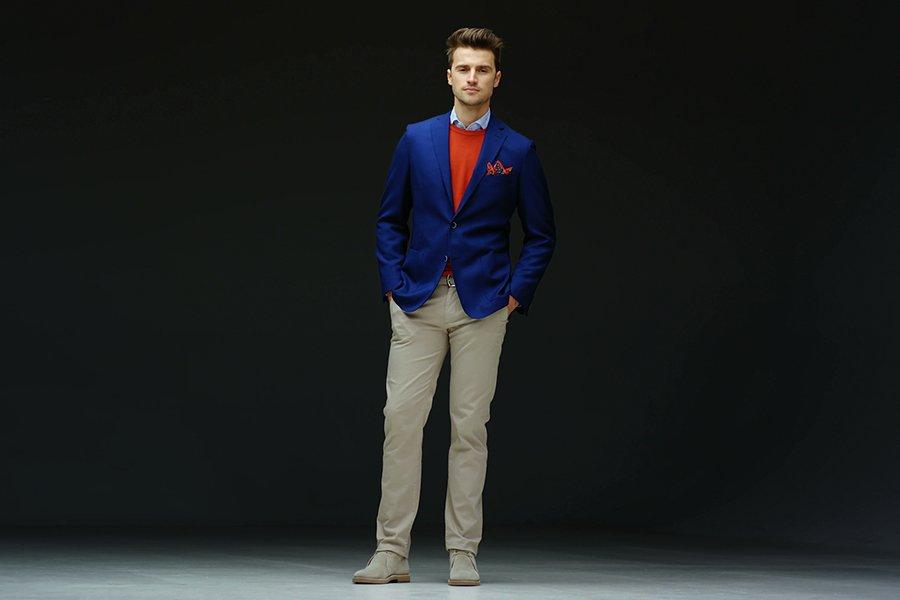 2. Business Casual
This outfit takes a blue jacket into a more casual direction. A classic cotton chino in a light tan colour coordinates perfectly back to the blue jacket.
One of the great things about a blue jacket is that it really provides a canvas to add any colour. In this case we've chosen a very vibrant orange that adds a lot of pop and personality to the jacket and the entire outfit. It's layered over a fine white and blue striped shirt that has a little hint of that orange in it as well.
The pocket square ties all of these colors together. We're chosen colour in a careful way to make sure the whole outfit is really harmonious.
We've opted for a woven belt. This really speaks to the casualness of the outfit. A suede chukka boot in a light tan colour also really works well here. Note that the belt and shoes don't have to match, they just have to complement one another.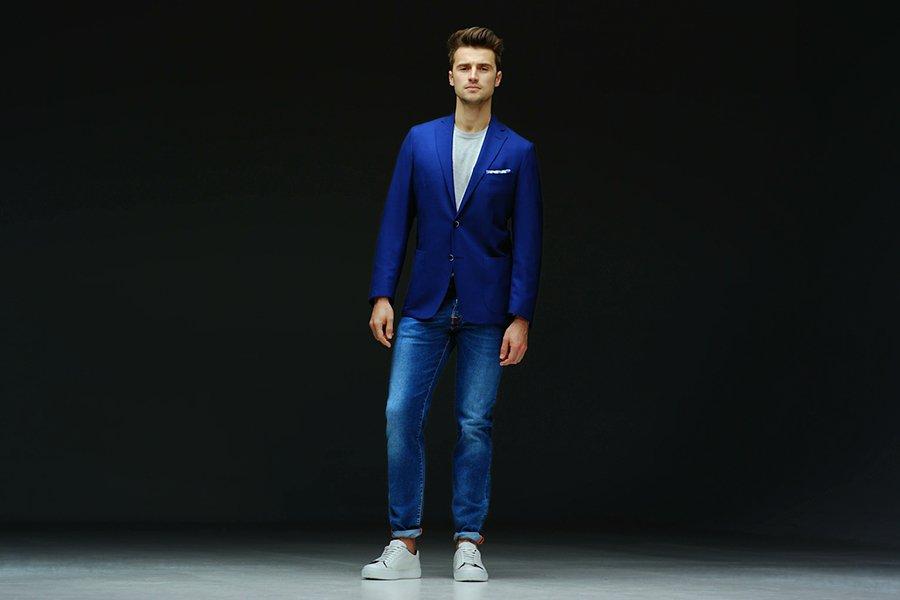 3. Weekend
This look is the most casual of our coordinations. Without the jacket, it's just a t-shirt and jeans. With the jacket, it takes the outfit to a whole new level and ensures you're appropriately dressed for almost any casual occasion. For a perfect weekend look, we've taken our blue jacket, paired it back to a grey t-shirt and a pair of lightly washed jeans and a really clean, fresh, white sneaker.
4. Relaxed
A question we're often asked is, "How do I wear a coloured pant without looking like a clown?" Well the answer is to let the pants be the standout item and keep the rest of the outfit neutral.
Here our blue jacket simply anchors the look, and the coloured pant adds a little life and personality to the outfit. We've incorporated another wardrobe staple, a blue chambray shirt. This keeps the top of the outfit really clean, and elegant, and allows the colour to shine in the trouser.
The accessories we've chosen are also very sophisticated - a white pocket square, with a little hint of blue trim. We've gone with a very rich, dark chocolate brown suede in the belt and also the double monkstrap shoe.
The overall look is elegant, and sophisticated, and not at all clownish.