Introducing 100Hands: The Shirtmakers' Shirtmaker
By: Logan Ross
Date: 2022-03-10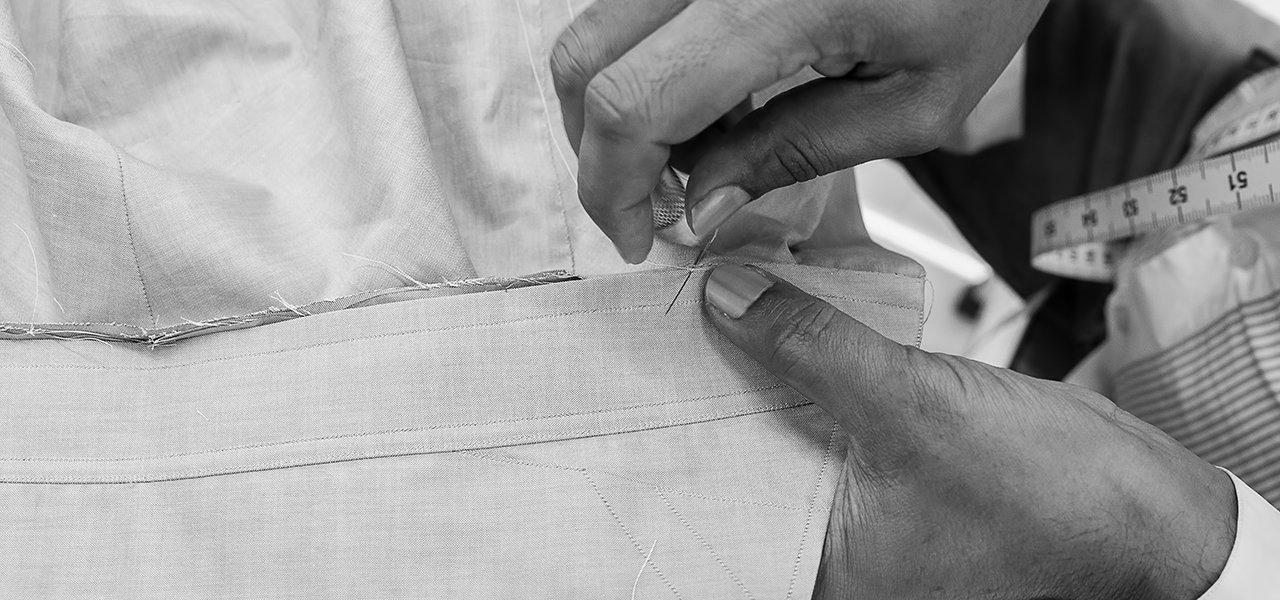 As luxury hand-made shirtmakers, the philosophy behind the 100Hands brand retains only one fundamental constant: craftsmanship. The term 'craftsmanship' is used quite often in the luxury men's clothing industry, though few brands truly exemplify the term throughout their product and processes so honestly as 100Hands.
At Harry Rosen, we're honoured to have added the truly remarkable shirts produced by 100Hands to our selection of luxury ready-to-wear shirts.
As we are the first and only carrier in Canada of this internationally coveted maker of hand-crafted shirts, there are equal odds you may or may not already be familiar with 100Hands. Either way, we thought you might appreciate a little more backstory behind the brand and some more information about what makes this masterful maker of men's shirts so special.
The Origins of 100Hands
While this Amsterdam-based shirt-making brand is comparatively young (launching just recently in 2014) to other shirtmakers of similar caliber, founder Ashkat Jain's heritage in the fine garment economy spans generations.
Before founding 100Hands with his business partner and wife, Varvara Jain, Ashkat lived the role of an investment banker in Amsterdam — one with a penchant and passion for high-quality men's clothing, at that. However, Askhat's ancestry and upbringing were much more closely related to thread counts than finances.
Ashkat's family heritage is firmly rooted in India's textile industry, dating back over 164 years. During his youth, Ashkat became intrinsically familiar with premium threads, yarns, and fabrics as his family owned an atelier that employed five of the area's most exceptional local tailors.
Here, Ashkat developed his education and passion for the fine garment-making industry simultaneously at a rapid rate, naturally serving as a foundation for the world-renowned shirting brand he would later establish, 100Hands.
Although Ashkat formally studied finance throughout his youth, he gave up his career in the industry to pursue his dream — or destiny, some would say — to return to his ancestry's roots in fine garment-making and launch 100Hands.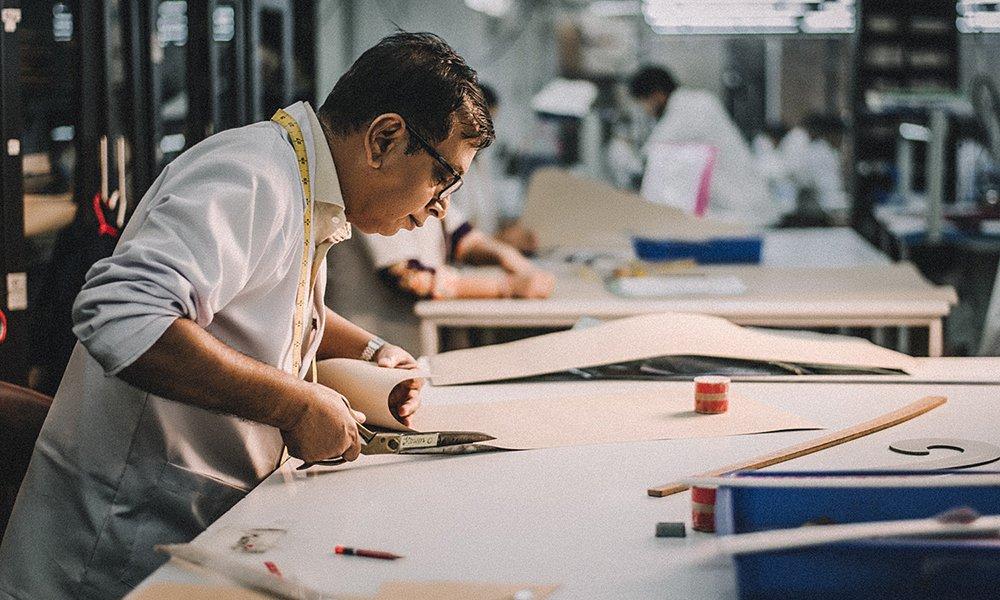 The Story Behind the Name
Once Ashkat devoted his future to the dream of producing among the world's finest shirts (if not the world's finest), he constructed the first blueprints for his upcoming hand-crafted shirt-making company.
After a long, thoroughly considered planning process, Ashkat deduced that "it would take 50 people to make a perfect handmade shirt," and subsequently spent the next several months building a world-class production facility to host those 50 skilled workers — based, of course, in his native India.
The premise for his factory was simple: to create a workshop where the highest degree and quality of shirt-making could be practiced — one that any other workshop would logistically struggle to replicate.
As each individual shirt produced in Ashkat's factory receives specific treatments from each of the 50 skilled workers, it consequently passes through their 100 skilled hands — hence the name 100Hands.
Following the monumental successes of 100Hands since 2014, Ashkat's factory has further developed, now employing nearly 200 devoted craftworkers. However, the original meticulous production process hasn't diverted away from Ashkat's original vision.
The 100Hands Production Process
With such close attention to detail paid to each and every individual garment produced by 100Hands, the process to construct a single shirt requires a total of about 34 hours of handwork per shirt.
While that might sound like an inefficient, expensive, and unsustainable process for a clothing producer so globally in-demand, Ashkat's reluctance to veer away from this process serves as a testament to his unquestionably high standards and undying dedication to quality.
In fact, it's these old-world production details intertwined with contemporary, often bespoke designs that give each 100Hands garment its soul. The result? Menswear fanatics, enthusiasts, and critics alike located across every part of the world agree that Ashkat's shirts can only be categorized in a class of their own.
Signature Details of a 100Hands Shirt
Some of the most telling, signature details of a 100Hands shirt are quite obvious; others not as clear for those uninitiated with the idiosyncrasies of the industry.
The most immediately apparent mark of quality across all 100Hands shirts are the exceptional fabrics they're made of. Drawing inspiration from his family's storied heritage in the textiles industry, it's easy to see why Ashkat places such an enormous emphasis on only using fabrics of the highest quality across his product ranges.
As the production of a 100Hands garment follows such a particular, methodical process, another signature detail of the shirts is their construction. As you would imagine, no corners are cut when it comes to the process in which the shirts are being put together, with every detail thoughtfully considered.
While these details aren't as outwardly apparent to those less familiar with the shirt-making process, they're woven into each and every shirt nonetheless. Rumour has it, even a single buttonhole takes about 45 minutes to stitch in by hand. The term 'handcrafted' couldn't be more applicable to a garment maker's process than it is to 100Hands'.
Perhaps the most obvious of symbols one can identify a 100Hands shirt by is their unique collars. Unlike most traditional shirt collars, those made under the 100Hands label are predominantly 1-piece, meaning they are constructed fully from one single, uncut piece of fabric — a feat only truly appreciated when holding an example in-hand.
100Hands Product Offerings
As always, our ambition at Harry Rosen is to connect our customers across Canada with the very best selection of world-class menswear from around the world. To learn more about the collection of styles, fabrics, and product offerings from 100Hands that we carry at Harry Rosen, please visit us in-store or online.
For further information about the brand and how we can help you experience the pleasures of discovering 100Hands for yourself, we recommend reaching out to your Harry Rosen clothing advisor for more tailored information. For more information about 100Hands' custom and Made to Measure programs, we also recommend you reach out to your Harry Rosen clothing advisor.