Your Jacket, Your Style
Tailored clothing buyer Adam Gallo on his picks for custom sports jackets.
By: TIM GALLANT
Date: 2017-09-29
Walk into any Harry Rosen store and look around - chances are that many of the Clothing Advisors are wearing suits and sports jackets by Atelier Munro. They were the first to take advantage of the Custom Made clothing on offer from the Amsterdam-based tailoring company, available exclusively to us here in Canada.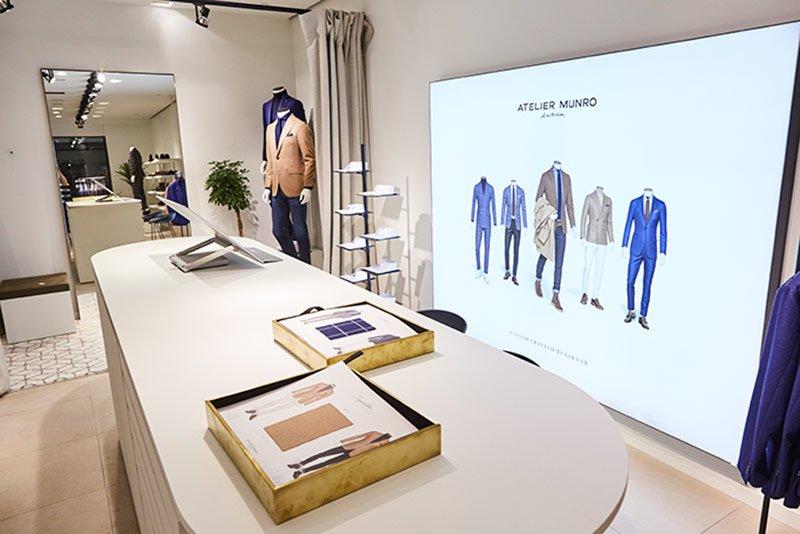 In turn, the Advisors have become brand advocates for the Munro experience valuing the quality of workmanship, exemplary materials and modern styling options inherent to the brand.
"It begins with a customer sitting down with one of our specialists and looking at fabrics," explains Adam Gallo, tailored clothing buyer. "The season's new ones are displayed on inspiration cards - large-format swatches you can see and feel." Hundreds of fabrics are available - many from the finest Italian mills. Pick one you like. You choose the cut and style of the jacket and try a few on for size. "Then the Advisor takes your measurements. Every tiny detail of fit is recorded digitally."
Now the creativity kicks in. What kind of pockets, how many buttons? Surgeon's cuffs, a mark of a well-made jacket, are standard. And then there's the question of lining - everything from traditional prints to psychedelic paisley is available for you to make it your own. Monogramming is also available.
"It's a very cool feeling to play Design God, and then , in less than a month, take delivery of a modern sartorial suit or sports jacket that looks and feels like it must have cost thousands of dollars but came in at under $1,000," explains Adam.
To help get you inspired. We asked Adam to show us his top 5 fabric picks for custom sports jackets - the cornerstone of any man's wardrobe - this season.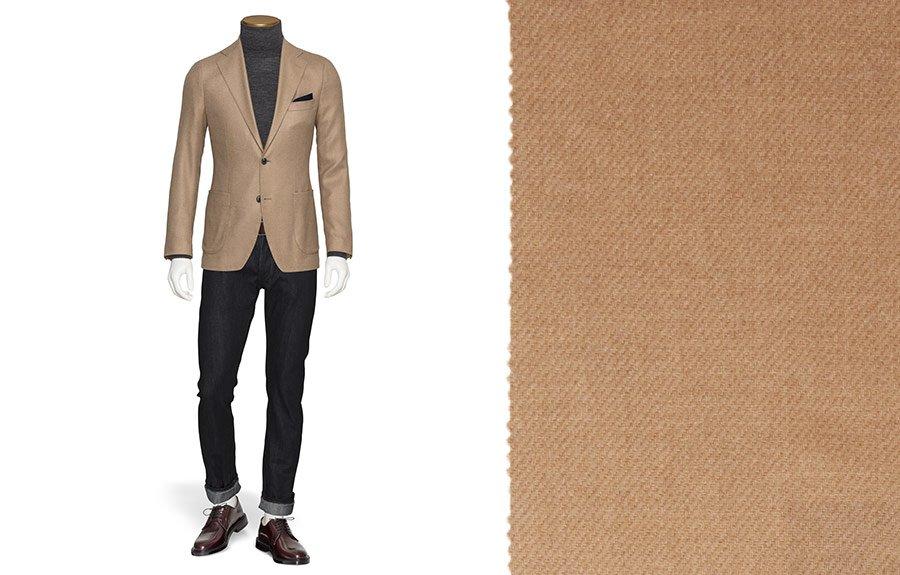 Fabric #8332
It's not easy to find the perfect shade of camel. But this it. When you see it against navy or pair it with grey, it just sings. You can see the richness. It's a true camel hair and has the most unbelievable touch. It feels like a cashmere, it's incredibly soft. It's done in a very gentle twill and has a great texture to it. It looks very, very luxurious.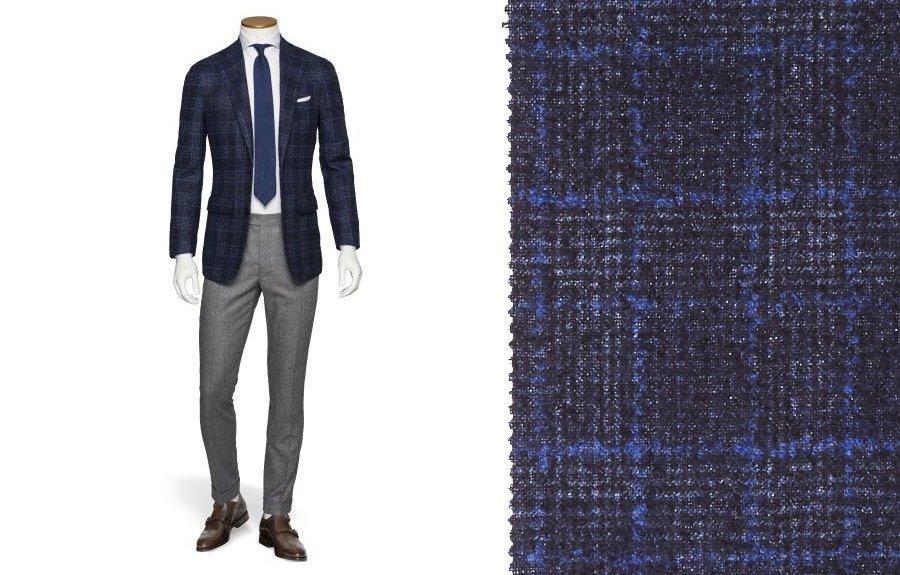 Fabric #8335
This is just an awesome swatch. It has just the right colour in it to be as ballsy or bold as it is. It's a MONSTER plaid. Huge window pain. Exaggerated glen check. Yet somehow it's totally wearable. Despite being bold, it has the right balance of colour. The pale grey and blue together look amazing. A little shot of the brown overcheck makes the pattern look distinct and interesting. It's so bold that whatever else you have on needs to be tame - a clean blue jean, a crisp white shirt. This jacket will speaks for itself.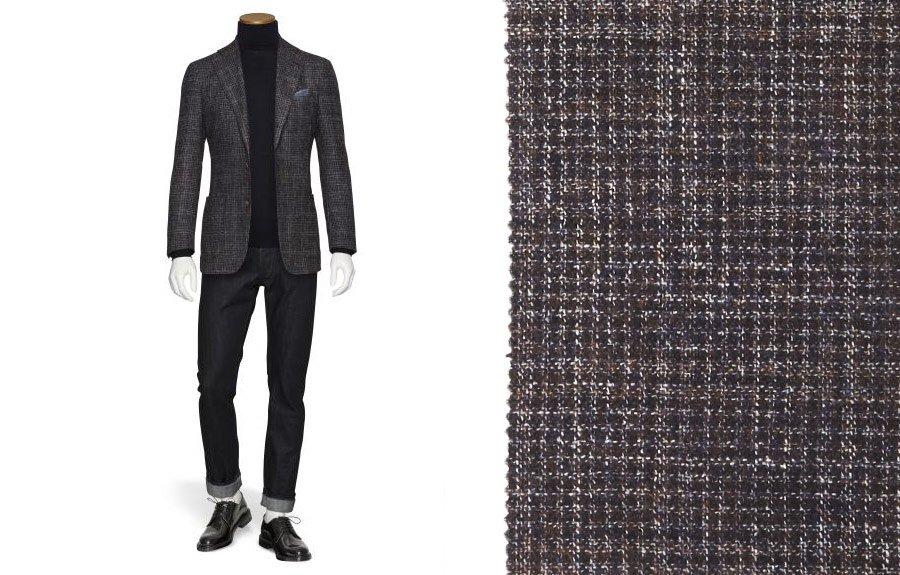 Fabric #8339
This I like because of the mix of colour in it. It's grounded with blue. You've got a couple of shades of brown - some deep chocolate and mocha shades. And then, sort of a broken mini-check in an off white. Now what this does is give the fabric a very woven look. And, because of the different colours, there's a lot of versatility. This is the kind of jacket that goes really well casually - wear it with jeans and cotton pants.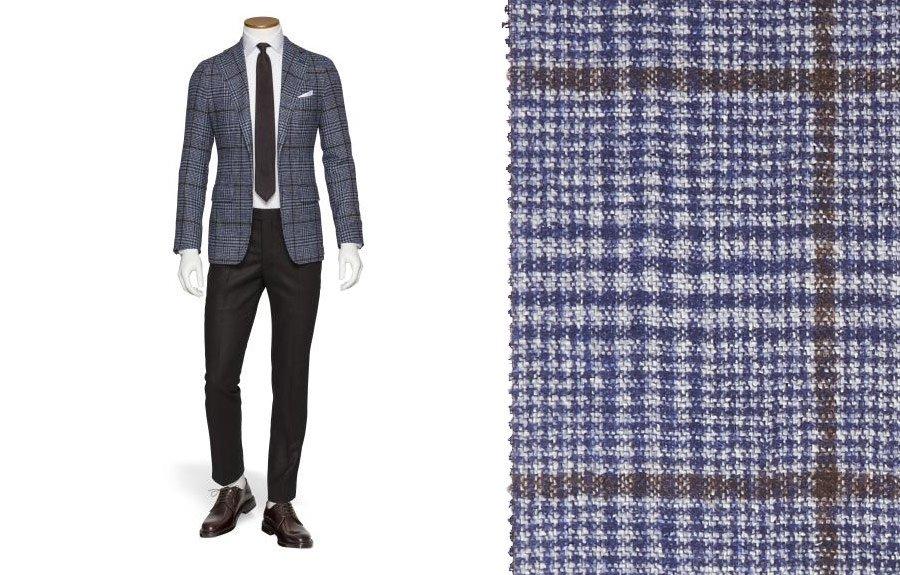 Fabric #8337
Next is this blue-on-blue macro plaid in a boucle. Boucle is definitely a fabric trend this season that you'll see from most sartorial makers. The mid-blue ground with the electric blue overcheck makes it exciting. The boucle effect gives it incredible substance and texture. From a mile away you can see that it's not so typical. Wear this with jeans or wool trousers.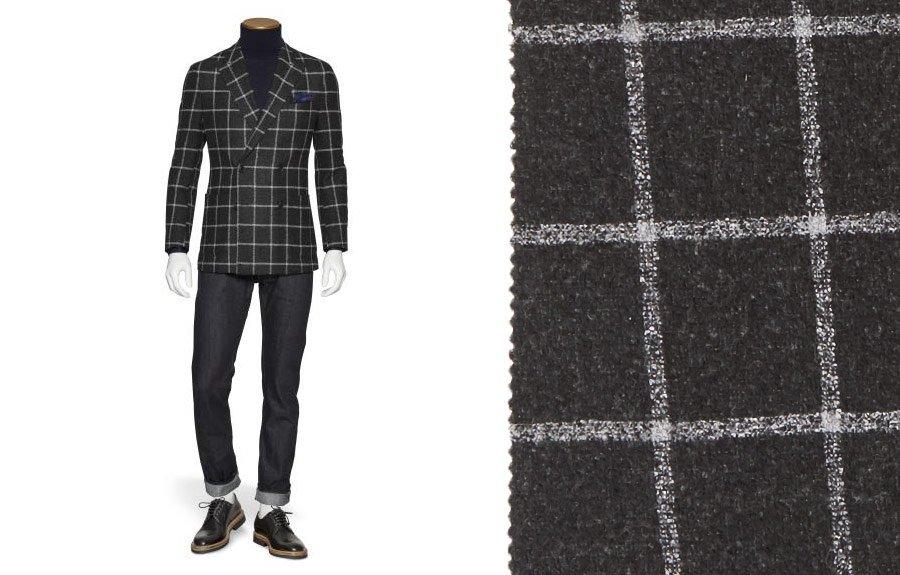 Fabric #8349
This is the kind of window pane that'll get you noticed. What I love about it is the dark emerald tones. This one is grounded with black. The window pane is a light grey. It's really different than anything you'll have in your wardrobe. This worn with a dark, dark denim looks really rich. The same goes for wool pants. Just keep your colour variation to a minimum because you have the pattern that makes it look distinct. It's a bold choice without being over the top.
"Among all these jackets, the idea to me is they're distinct," says Adam. "They're eye-catching. But not ridiculous. It doesn't look like you're just trying to be noticed. They're bold but with a purpose. These selections would offer up a well-rounded jacket wardrobe. There's diversity in colour and pattern. Is this your traditional business wardrobe? No. But this is for a guy who wants to have a timeless wardrobe covered but in a modern way. Let's call it the modern sartorialist." Whatever you call it, it's all good stuff.