The White Winter Coat: Your Next Outerwear Acquisition
Our Reading of the Recent Trend Towards Wearing White Outerwear During the Wintertime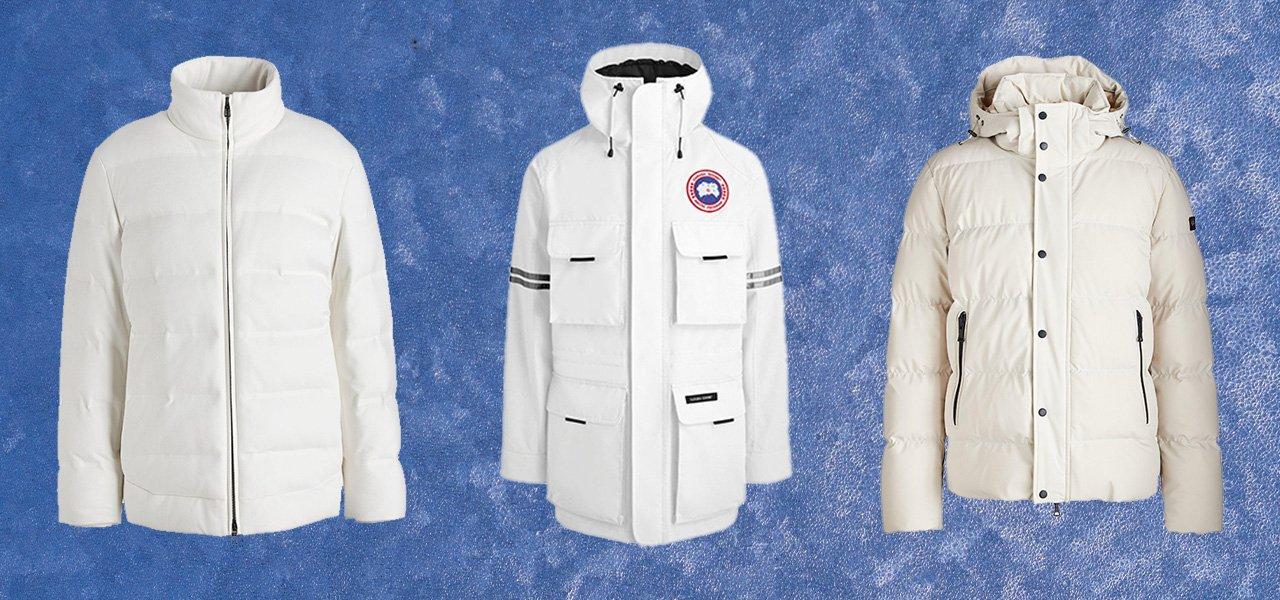 There are few countries in the world where discussions surrounding winter outerwear are so perennially important to its people as Canada. No matter which part of the country you live in, come mid-autumn, Canadians' conversations about winter coats are as seemingly impossible to avoid as winter itself.
However, these inevitable rehashes surrounding winterwear aren't for naught, as new innovations and iterations of the winter coat emerge each season, with new trends and styles promising improvements in both style and substance.
This year, we're keenly following one trend in particular — that of the white winter coat — and why we believe we're going to see an even further widespread adoption of them over the next few seasons.
Wear White Past Labour Day?
We've all heard the age-old adage that one shouldn't wear white (trousers are most commonly vilified) after Labour Day in early September. Balderdash. We have many issues with that rule, perhaps the most frustrating is the notion that a date on a calendar should inform your idea of what to wear more than the climate and social setting itself.
This rule was most likely circulated to advise owners of lightweight white trousers that summer fabrics like linen and seersucker don't perform (nor look) their best worn out-of-season. However, that doesn't mean all white fabrics and garments falter in the face of colder temperatures and fewer hours of daylight.
While it might sound obvious to say, it's worth repeating that practically all white winter jackets are made from the same warm, insulating materials as their more colourful counterparts (and don't tend to include seersucker or linen in their fabric compositions).
Why Winter Whites Work
Whether it's a pair of trousers, a crisp dress shirt, a soft cashmere sweater, or a plush parka, white-coloured garments always seem to stand out more than others during the wintertime.
This is usually because of two main reasons: one being the season's reduced daylight hours. Our darkened natural surroundings create a sharp juxtaposition between white outfits and the world around them. So, when crisp, pure white clothing contrasts with depressingly dark skies, slush, and dirty snowbanks, it creates an almost angelic effect around its wearer.
Similarly, the second reason is that white is typically not as popular a colour for others to wear during winter, which means anyone wearing larger items of white clothing immediately stand out from the crowd of blues, greys, blacks, and other dark clothing colour families.
Although it isn't quite as common, white is a very tasteful colour to wear in the wintertime, often reflecting a sense of almost ethereal purity, elegance, and lightness.
White Outerwear and Your Winter Wardrobe
When it comes to outerwear, especially larger winter coats and jackets, selecting a colour is an important decision. Because most people only own one winter-weight parka or bomber jacket at a time, the piece they select to see them through the next season or two must go well with everything else in their winter wardrobes as well.
That means the colour and finish of your winter coat must be versatile to pair with other colours, but should be universal enough to match the formality level of essentially everything else you own too. It's no good having a winter jacket that looks great over a suit but looks out-of-place when worn with sweats.
The good news is, white clothing pretty much goes with everything, providing the perfect blank canvas to build outfits around as it complements any other colour — including more white.
Just as a white T-Shirt attracts attention towards a pair of blue jeans, or a white dress shirt allows for a patterned sport jacket to stand out, wearing a white winter coat will only help, not hinder, anything else you wear with it.
Wearing White and Keeping Clean
Another common concern about white outerwear — and white clothing in general — is its proclivity to show spots, smudges, and stains. In fact, should the social scenario permit, many people avoid wearing white altogether for this reason.
To that, we say that essentially all winter coats are exceptionally good at both resisting and removing dirt from their surfaces. Seeing as the outer shells of white coats are primarily made of technical fabrics such as nylon, polyamide, elastane, and more, winter outerwear no matter its colour is inherently easy-to-clean.
While wandering out into a messy snowstorm may seem a little intimidating the first time you do it in a white winter coat, one look at your outerwear afterward will surely exemplify its robustness and resistance to stains. And, should you find a spot of anything on your pristine white shell, a quick wipe-down with a soaked microfibre cloth should more than sufficiently clean the area.
TAGS:
#Style Advice,
#Styles
,
#Trends
,
#Outerwear
,
#Coats
,