What to Wear For Your Next Video Conference
Meeting via video conference call? Make sure to look your best (while staying comfortable at the same time).
By: MARC RICHARDSON
Date: 2020-03-25
This probably wasn't how you expected to find yourself working from home, but since we're here, allow me to share a bit of advice.
Even under normal circumstances, meetings can be tedious things—but as you transition into working from home, a whole new set of meeting-related concerns present themselves. On a typical day, you might need a refresher about who's who, jot down notes about what you'll say, or worry about a stray piece of lint perched on your shoulder. Now, on top of how we look we are all starting to wonder where we'll set up, whether it looks tidy enough, if our mic is picking up our family in the background and whether it appears if we are actually working.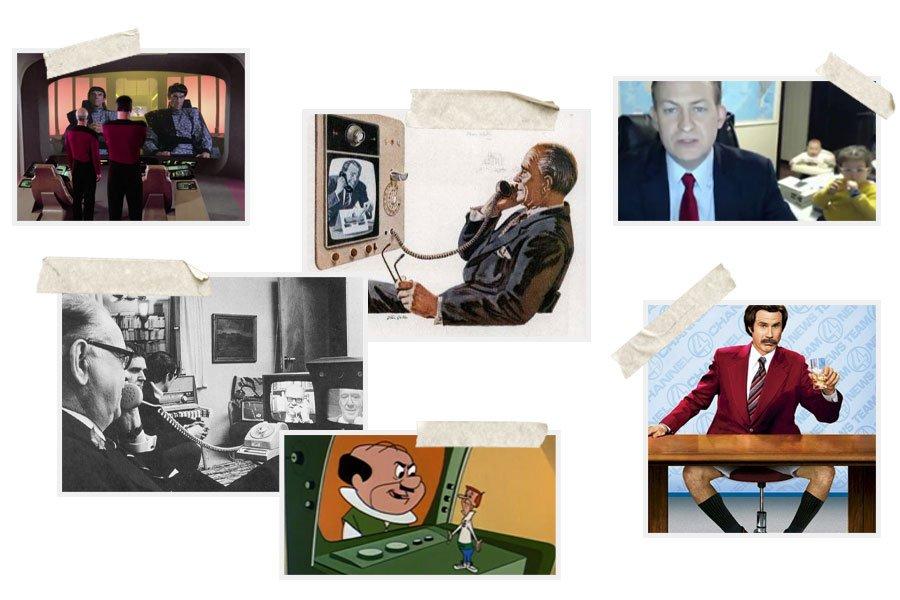 While we've already extolled the values of getting dressed when working from home, that doesn't mean what you've chosen to wear is appropriate for a video conference with a client, employee or superior. Just like working in an actual office, different occasions can call for slightly different sartorial choices.
The good news when all of your meetings become digital meetings (taken in every room but an actual conference room) is that you get a bit more leeway.
For one, you can take your meetings anywhere your heart desires, and your home allows. From your bed to a reading chair to the dining room table and, yes, even your office, nothing is off-limits when it comes to virtual meetings. Nor is any attire off-limits. The key is picking your spots and striking a balance between three factors: What people can see, what they can't and where you are.
The more formal your surroundings, the more casual you can dress.
Sweats Above
In an ideal scenario, you'd probably want to take all of your video conferences in the comfort of a waffle knit hoodie—from Wings+Horns, perchance? But your employees or your superiors seeing you lying in bed in a hoodie and sweatpants might send the wrong message. Instead, wear it when you're taking calls in your home office. With a stately wall or framed print behind you with neatly organized files flanking your shoulder, it'll appear that it's business as usual for you. You'll be forgiven, then, for the muted, solid-colored hoodie. If you're feeling particularly clever, maybe you'll wear a pair of comfortable jeans, and find an excuse to stand up and grab something from out of the frame—just to show off that you're not, in fact, wearing sweatpants.
But, if you did feel like wearing sweatpants, there are solutions. There are always solutions.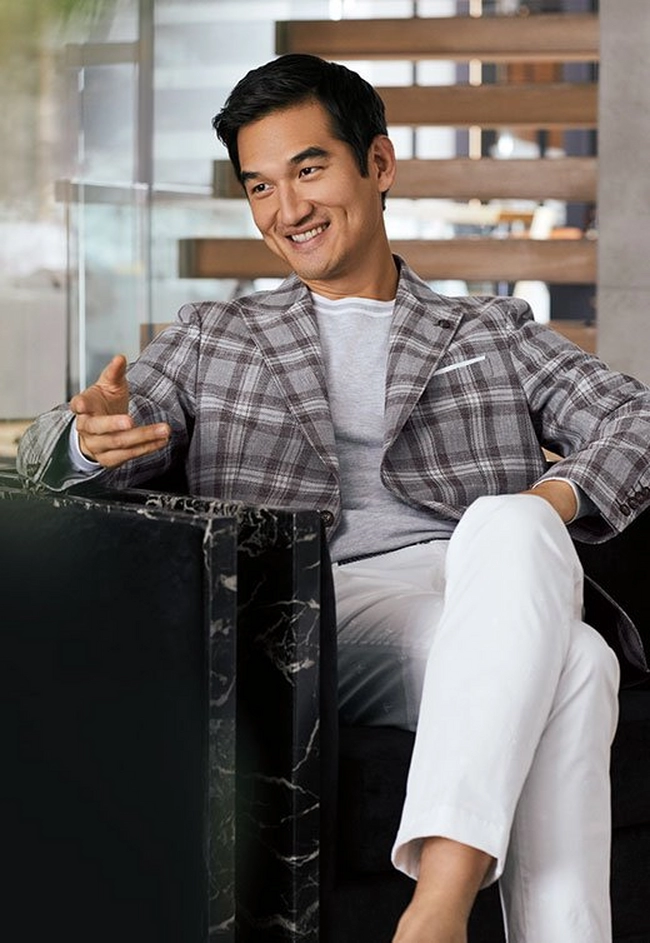 Sweats Below
The main thing to consider is what others would see. Polos or cashmere sweaters are perfect for this—they add a refined touch, without giving the impression that you've dressed up for the occasion. The same kind that comes from setting up at your dining room table, which is less formal than a home office, but more professional than the couch. Distracted by this refined nonchalance, your colleagues, clients, or boss won't even consider the possibility that you're wearing sweatpants.
Of course, some instances call for something that more closely resembles your usual office attire. Perhaps a budget presentation means people will be paying attention to spreadsheets and other documents. While you might have to wear a dress shirt, it doesn't mean you'll need to eschew comfort. Don't push yourself; stay in bed if you're not feeling it. This setup might simply look like a comfortable nook somewhere in your home. You happen to be wearing shorts while confidently delivering your budget update, but the shirt is the only thing people will notice when they glance at you intermittently.
Elevate with an Oxford
If you don't have the luxury of a distracted audience, a button-down Oxford under a sports jacket should do the trick. A soft, brushed-cotton Oxford ought to be as comfortable as your favourite T-shirt—the fact that you look like you're actually at work means you've earned the freedom to be on your couch. People will be none the wiser that you're wearing sweatpants and have the TV muted in the background.
Video conferencing is an art not unlike magic—the goal is to draw the eye to one thing so that it ignores the rest. If you want to be on your couch or in your bed, wear something that will have people thinking you're taking it very seriously; if you want to wear a hoodie, wear it surrounded by leather-bound books.
And, if ever you're feeling a bit guilty about conducting business in sweatpants, remember that you can always opt for a pair of slippers that could pass as loafers in most offices.
Marc Richardson is a fashion writer and photographer based in Montreal. His work has appeared on Fashionista, Grailed and Garage Magazine. Follow him on Twitter.