Veg Out! How to Spice Up Your Plant-Based Cooking
Chef Adam Ryan schools us in the art of vegetarian fine dining.
By: JEREMY FREED
Date: 2020-08-20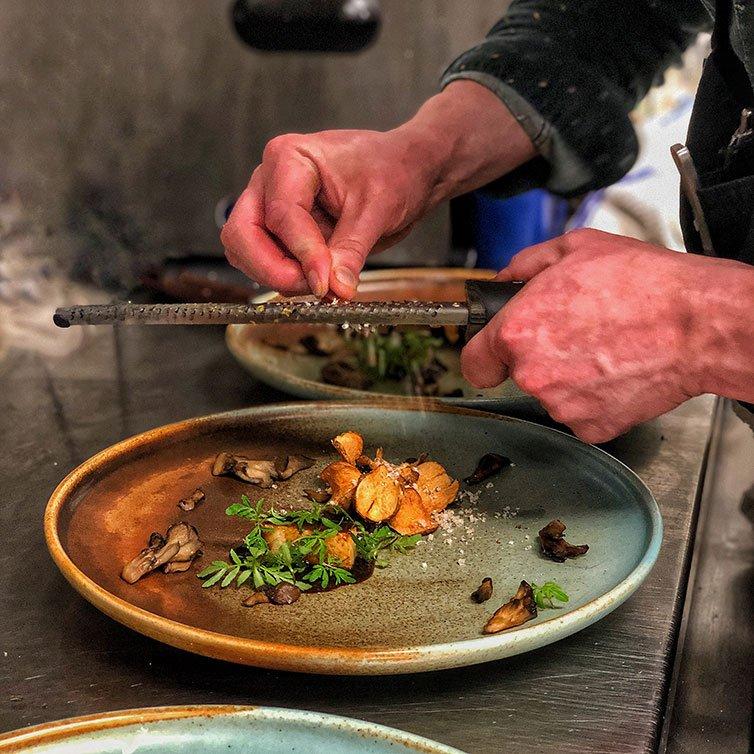 Remember trying to eat healthier? Us either. After a spring of quarantine comfort food and a summer of barbecues and ice cream, we could all probably use a few more veggies in our diets these days. Adam Ryan, head chef at modern vegetarian restaurant The Coup in Calgary, offers us his best advice for introducing vegetables to the menu without sacrificing flavour.
What are some of the most common misconceptions about vegetable-forward cuisine?
The biggest misconception about plant-based food is that it's bland, boring, limiting… all spinach and tofu. It's easy to make a cheeseburger taste good, but it's always going to taste like a cheeseburger. The great thing about plants is that they have so many different flavours and the flavours can become super unique depending on how they're cooked. Look at the flavours of Latin American cuisine and you'll find that all the things people love about it come from the plants. The spices, acidity, herbs, chilies… these are all the best parts about eating that style of cuisine.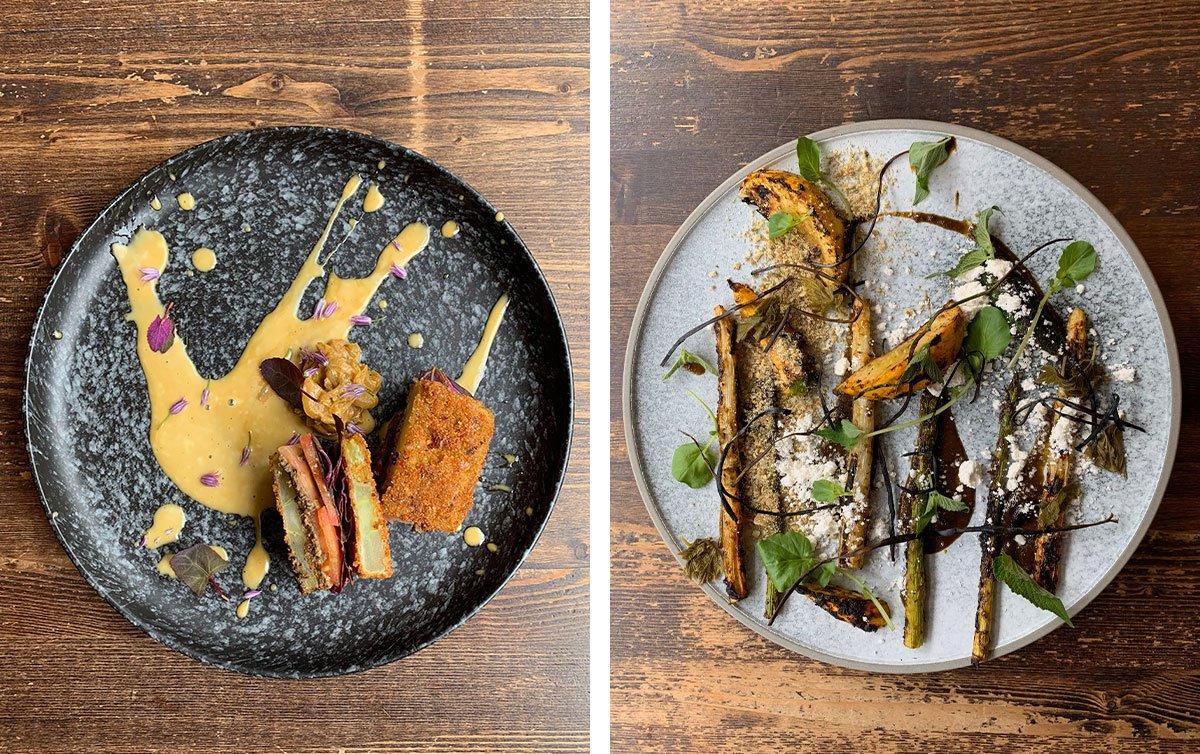 When non-vegetarians come to eat at your restaurant, which dishes do you suggest that will help to open their minds about the possibilities?
I think it's easiest to make a believer out of someone if you give them something they are already familiar with. Offering someone seitan or tempeh right off the bat is going to dampen their excitement because they're already out of their comfort zone. We offer a lot of sandwiches that are super approachable for people of all diets and can accommodate everyone. The great thing about a burger or sandwich is that you can make it with a vegetable that people eat every single day. Pick a vegetable that ends up on your dinner table every night and we can turn that into a delicious patty that you don't have to be afraid of!
In terms of cooking at home, what are some ways people can shift from a meat-centric diet to one that's a little more balanced?
The easiest way for people to shift to a plant-based diet is to cook with flavours you already enjoy eating. Do you like smoked foods? Smoke your vegetables! Craving souvlaki? Go buy some lemons and oregano! It's easy to forget that chicken is really just a vehicle for whatever flavours you want to put on it. A good addition or substitute for the meat in your meal would be any type of pulse, with the easiest being something that's already cooked for you. Canned chickpeas and other beans are ready to eat and make an easy addition to lots of different dishes. Anything you would use shredded or ground meat in can easily be substituted with legumes, lentils, or even ground-up nuts. Some easy things to start with would be pasta, tacos, stews, or a stir-fry with rice.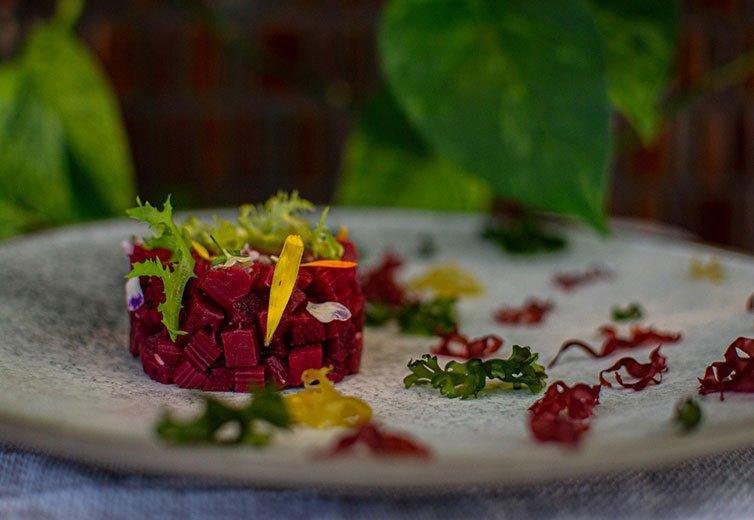 What is an easy weeknight meal to make at home that doesn't have meat as the main ingredient?
Pasta is an ingredient most people keep in their pantry. It's quick, it's inexpensive, and it's easy! If you're feeling creative try and cook some of your go-to vegetables in cream or tomatoes and puree them for a new take on an old favourite. Anything on a pita, wrap, or tortilla is quick and easy to whip up any night of the week. Sauté some veggies with some fresh herbs and add a splash of wine (to your glass and your frying pan), wrap them up in your bread with a simple and flavourful sauce. Some good sauces to start with could be hummus, tzatziki, baba ganouj or salsa. Just remember simple doesn't have to be bland, and it can be fun to experiment with new combinations.
What about something fancier for entertaining?
Entertaining is a great opportunity to flex your creative muscles in the kitchen. My best advice is to cook things that your guests wouldn't normally try if they were out at a restaurant or cooking for themselves at home. Go try those fiddleheads or weird looking mushrooms you saw in the grocery store but never thought to buy. Look at international cuisines for inspirational flavours; instead of making Korean fried chicken, make Korean fried lion's mane mushrooms. Pick up some vegan fish sauce and make a plant-based kimchi with radicchio or endive instead of napa cabbage. Use lots of different textures, flavours, and colours to create a beautiful and impressive spread because at the end of the day people may enjoy a grilled steak, but it's still just a grilled steak.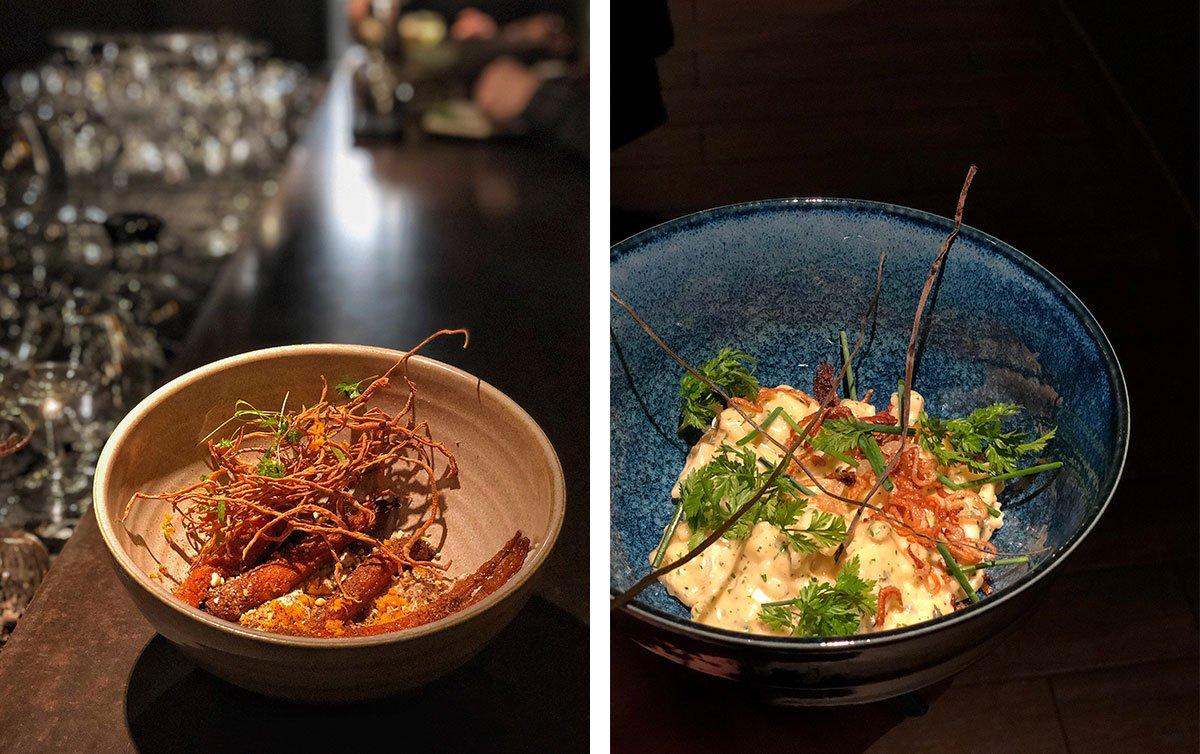 This time of year is all about grilling outside for a lot of people. What do you suggest as an alternative (or veggie-friendly addition to) burgers and steaks?
Something fun and unique for a summer backyard BBQ that anyone can execute is marinated chunks of grilled halloumi cheese on skewers. Or aged provolone, which adds depth and flavour while melting nicely. Then use it to create a super tasty dip for all those vegetables you just pulled off the grill!
Firmer vegetables like squash, onions, rutabaga and celeriac all work well if you leave the skin on and grill them whole. They take a little longer, but just let the skin get nice and charred, the insides will steam and create layers of textures and flavours. Remember to use some flavourful oil, fresh herbs, spices and some chopped garlic to marinate whichever your preferred vegetable is and just throw them on the grill raw.
Jeremy Freed is a Toronto-based freelance journalist. His writing about menswear, travel, design and sustainability appears in Sharp, GQ, the Globe and Mail and many more.