The Harry Rosen Fall Trend Report
A guide to getting dressed this season.
By: HARRY ROSEN EDITORS
Date: 2019-09-19
The kids are back in school (yes!), the days are getting shorter (no!), and that can only mean that fall has arrived. We're terribly excited about all the autumnal options arriving in stores and online. To help us pinpoint what men should be wearing this season, we caught up with our VP of Merchandise, Shannon Stewart, to talk about the key trends of the season. Here's what you need to know.
The Lightweight-Down Jacket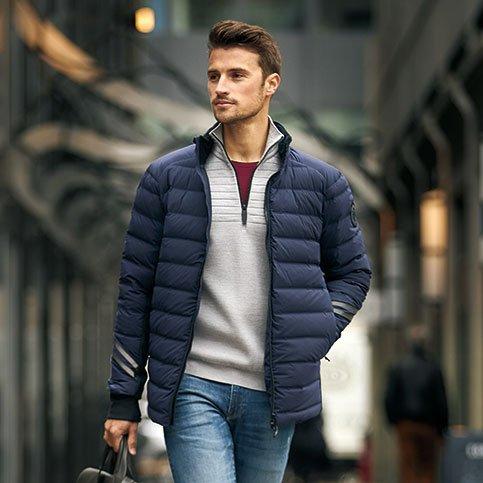 This season's edit of lightweight down jackets is as varied as we've ever seen with a fantastic variety of styles with unique, functional details at every price point. It's no wonder they've become a staple of a man's wardrobe.
The reason? "They're warm, but weightless—and perfect for travel, especially if you're flying," Stewart says. "As we transition from balmy autumn nights to those chilly days of early winter, they're the ultimate layering pieces when it comes to dealing with Canada's unpredictable weather."
The Swacket
The swacket is, essentially, the combination of a sweater and a jacket. Along with heavy-gauge cardigans, these sweater jackets have taken up residence in the softest, most casual corner of a man's wardrobe. Maurizio Baldassari introduced them to Harry Rosen a couple of seasons ago, and now they're seemingly everywhere. "Like sports jackets, they complete an outfit," Stewart says. "You can wear them over anything from a knit to a button-down shirt with a knitted tie. They are a nice alternative to a jacket in a casual business environment." These sweater-jackets also double as outerwear, making for versatile laying pieces for fluctuating fall days.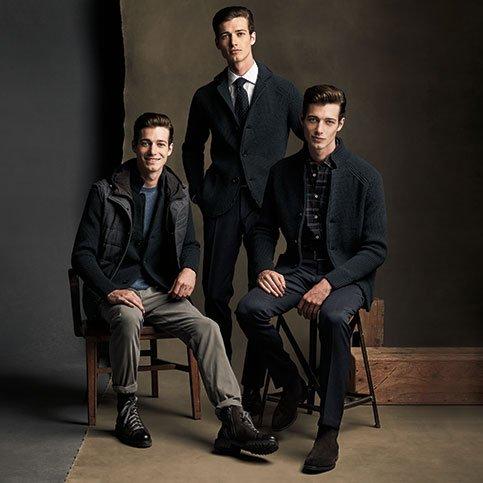 The City Coat
A contemporary take on the traditional overcoat, the city coat is cut a little shorter and trimmer than its forebear. The city coat also has inherent versatility, perfect for when you need to look smart and equally appropriate when you want to look casual—or anywhere in between. For Stewart, the City Coat is taking on the role of the classic heavy overcoat and can be styled in a number of ways. "It protects your suit and keeps you warm en route to the office, but at the same time, with a hoodie, t-shirt, track pants and sneakers you can take your coat—and style —to the city streets. Right on trend."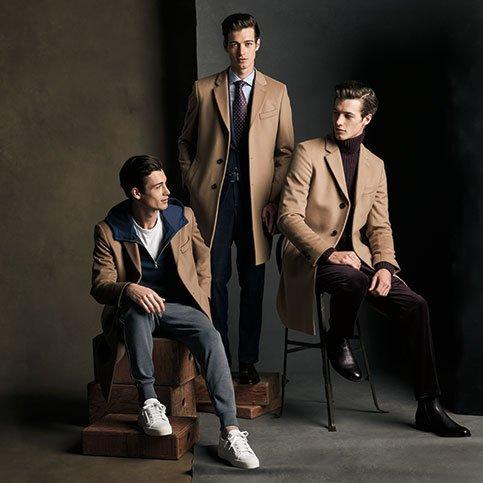 The Chelsea Boot
"Chelsea boots are all about downtown edge meeting uptown sophistication. Minimal, practical and versatile, Chelseas are the go-to choice for style-conscious men," says Stewart. While the Chelsea boot hit the height of its popularity in the 60s with a co-sign from The Beatles, this classic boot has made a resurgence in recent years with the like Kanye West making them his footwear of choice. Go for a light suede colourway and pair with jeans for a more relaxed look. Need something more formal? The sleek look of black leather is always a nice option. Paired with a dark suit, you'll achieve an elegant office look.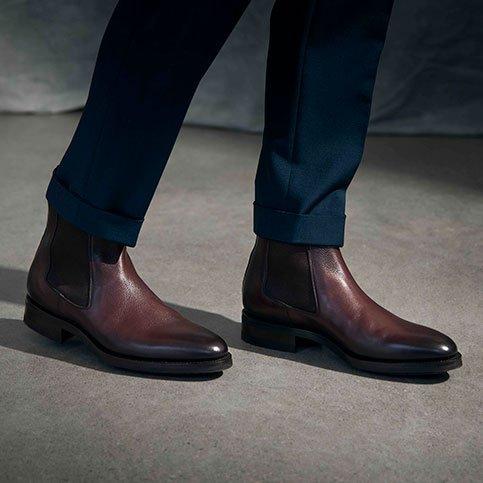 The (New) Sports Jacket
In recent years, the sports jacket has evolved to become the real workhorse of a man's wardrobe. The reason is its versatility. "The same jacket can take you from a business meeting to a more casual day at the office," Stewart says. "And then into the weekend—always looking completely appropriate. It's as if it adapts to whatever else you're wearing."
For Stewart, a smart sports jacket combined with dress pants, a shirt and a tie is only a small notch-less formal than a suit. "Or wear it with jeans and a T-shirt, and suddenly it's a casual yet put-together look. There's a whole spectrum of looks between those extremes."