Socially Conscious Comfort from OBRA
We spoke the sneaker brand's founders about the importance of quality, why they chose to produce their sneakers in Brazil and engaging with the community.

OBRA's goal is two-fold––to create a comfortable top-quality sneaker and to create that product with ethical, sustainable manufacturing. No small feat. But with two industry veterans at the helm who have seen the inner workings of large international footwear brands, it was important for OBRA make more than sneakers and make a difference.
OBRA was founded by Arnaud Delecolle, the founder of innovative streetwear brand ALIFE, and Converse's former Director of Product, Dave Cory. The duo decided to bring their many years of experience together on a footwear line that is handcrafted by local artisans in Brazil and focuses on comfort, ethical manufacturing and, of course, good design.
While OBRA's styles may appear to be humble canvas vulcanized sneakers, a great deal of thought and care is put into each pair as it utilizes a natural Brazilian rubber outsole, an extra cushion in the footbed, breathable fabrics and all with eco-friendly materials and ethical manufacturing practices. (Vulcanization, is a bit of a technical term but it is essentially a process for making rubber more durable by "baking" it in pressurized heat, using sulphur to create links between the rubber's polymer chains.)
We spoke to Delecolle and Cory about the importance of product, ethical manufacturing and giving back to the creative community.
Where did the idea for a premium vulcanized shoe brand come from?
Arnaud Delecolle
Both Dave and I come from a place where product is king. Before anything else, the product itself has to look good and has to deliver. We also come from a branding and marketing background, both Dave at Converse and Timberland and myself on a more independent tip with ALIFE and other things I've done in the past.
In launching OBRA, our mindset was to build a business model that was not driven by hype but rather by the quality of its product and "unlimited shelf life" approach to product design. We sell a product of true value—as opposed to perceived value—and that is democratic and timeless in look. For example, my father is 72 and wears the OBRA low white and on the same day, Dave's daughter, who is 11, is wearing the same shoes.
Dave Cory
I've always had a difficult time creating products for trend only. I prefer to solve for premium function. Historically, vulcanized sneakers are uncomfortable so OBRA needed to solve this problem by providing premium comfort. Inside the sneaker, we scooped out the rubber and replaced it with a thick insole much like you would find in a running sneaker. We actually ship the sneakers with the insoles packaged separately to call the customer's attention to that feature. While functionality is key, we also understand that people first want it to look good. Our style is unique but not over the top. We've been in this industry for years, and seen a lot of product rise and fall, but we're both attracted to timeless products.
We spoke to Delecolle and Cory about the importance of product, ethical manufacturing and giving back to the creative community.
How did the ethical production come to be such a large focus for OBRA?
AD
For the most part, Dave and I both have experienced the footwear industry through New York City's "shoe dog" take on the business. Over the years we saw many things that didn't sit well with us but that we were not in a position to address due to a variety of reasons. Now, being older and starting a new company, it's our opportunity to push what we think is the right way to do business.
Producing the shoes in Brazil was a deliberate choice because there's a tremendous quality of labour here. We wanted to work with manufacturers that had real invested care into their workforce through well-being programs, whether it was like having a dentist for the factory, whether there was a daycare that was available to all the workers and other things of that nature. These things make the footwear more expensive, but it's also the quality of the materials that we're sourcing. We think of being sustainable as a global mindset. It's not just about using sugar cane-based foam for our insoles, or replacing heavily processed traditional silica with silica made from rice husks, an abundant renewable resource. It's also making sure our factory workforce is well taken care of, or being mindful to not wasteful in our use of finite resources whatever that may be at any given moment, directly or indirectly: people's time, raw materials, jet fuel…
Also, I come from Brazil, and I wanted to give back to the community that afforded me the life that I was able to enjoy.
OBRA has replaced traditional fossil fuel-based silica production methods with Oryzasil® that utilizes rice husks.

OBRA sources and utilizes natural Brazilian rubber to manufacture its outsoles. Softer, stickier and grippier.
DC
Ethical production came into our focus after we have grown up in this industry witnessing the treatment of factory employees while watching excessive waste happen all around us. By starting our own company, we can make those ethical decisions ourselves that may cost us more but we know we are affecting lives around us in a positive manner.
AD
It's a testament to our product that we have a lot of repeat business. We have plenty of customers who keep buying our shoes. A good friend is a barber, the founder of Morgenstern's Ice Cream [in New York] is also a repeat customer. These are people that are on their feet all day. These are shoes that are almost quality tools to help people do what they do.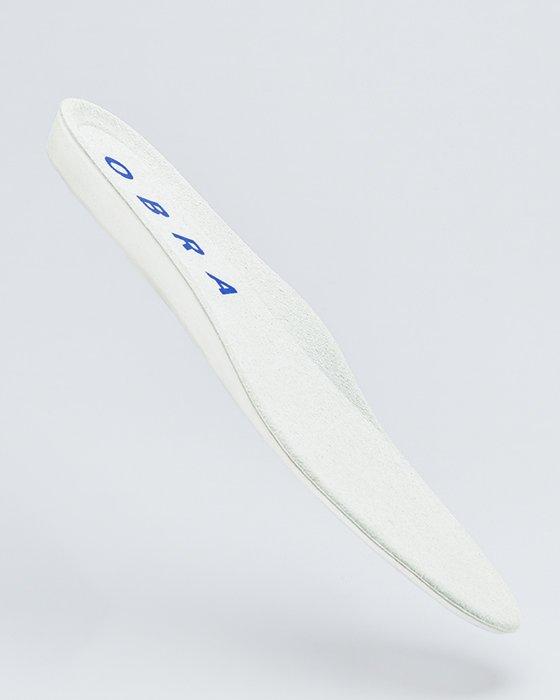 The name OBRA means both "construction" and "work of art" in Portuguese. Could you expand on what that means for the brand?
AD
That's correct. For OBRA, the utility is the product and the purpose it serves. And the artistry is the craftsmanship (the artisans that made the shoes) and our support for culture and anything that can be considered an artistic endeavour, whether it's from making ice cream to being a chef to shaping surfboards.
But, on top of that, we have a foot in New York downtown culture, and we want to support that scene with social efforts that support minorities and kids who come from less fortunate backgrounds and help them shine in the creative industry.
DC
One thing you can expect from us is to provide many variations of creative content that speaks to UTILITY (construction) and ARTISTRY (an artist's work of art). We are bringing to life diverse artists and artisans that demonstrate this definition best.
Photos by Fernando Mendes: @fernandomendes
This conversation has been edited for length and clarity.