Officine Générale's Pierre Mahéo on Timeless French Style
By: Ben Kriz
Date: 2020-11-03
"I've been really bad with "work from home," confesses Officine Générale's owner and designer Pierre Mahéo. "We have a very strict lockdown here in France, and although we are, of course, not an essential business –– because I own the company, I was able to get a special form. I spent 53 days of 55 or 56 days in the office, from very early in the morning to late in the day."
It's this tireless work ethic that has found his label, which launched in 2012, become one of the decade's biggest menswear success stories. Officine Générale was born out of Mahéo's "disgust for the system." After some disheartening experiences working for large fashion houses and seeing the conditions some of the Chinese manufacturers worked under, he quit to found his own label where production, quality, and humanity were vital. He sought out makers in Italy and the UK and told them exactly what he was striving to achieve and how it was the details that matter, including newspaper pockets. "[The tailors said], "what does that mean?" I said, "Now, it means nothing. Now, it's an iPad pocket." My grandfather was a tailor, and he had newspaper pockets in all his coats. At that time, you take your newspaper, put it in your pocket and then at coffee in the bar or in the restaurant at lunchtime there was no phone, you take out your newspaper. So that's an example of a small, simple detail but something I really wanted."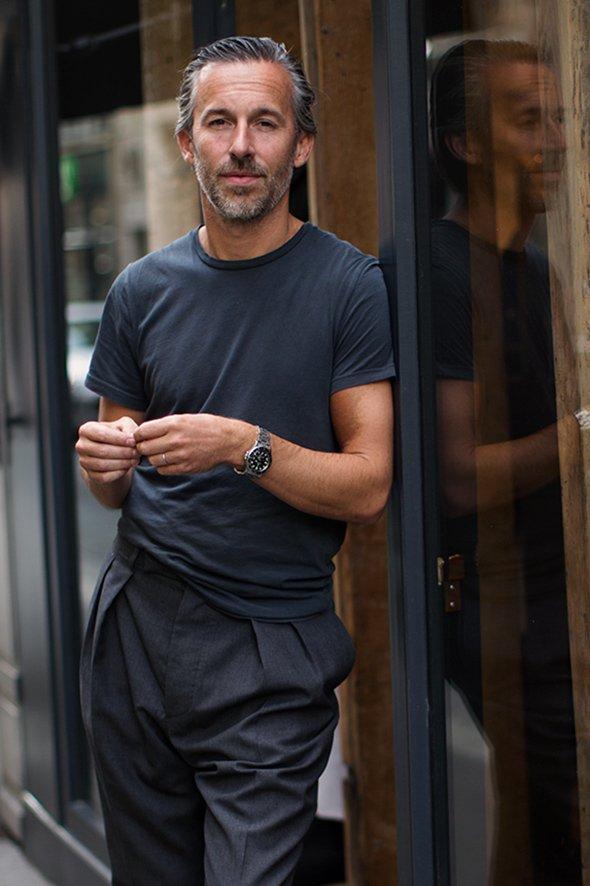 Photo by Scott Schuman
Mahéo's family has also played a large part in the brand's inspiration. That same grandfather left him with a profound appreciation for fabrics and fit and style that endures. Even perusing the brand's Instagram, it's quite clear that this is his brand, and it isn't hiding any roots. With stunning shots of Parisian streets, morning coffees at the famed Café de Flore, and head-to-toe mirror selfies wearing the latest collections in his studio, the brand account is in essence, Pierre's account. But this is no surprise; he very much designs for himself. You would not find him walking the streets of Paris in a logoed graphic T-shirt, and so you will not find such a thing in his collections. Instead, you'll find what Pierre likes to wear: a neutral colour palette, more solids than patterns, and a mix of understated, timeless pieces that seamlessly blend tailoring with workwear.
Officine Générale's latest line-up covers it all from an oversized checkered overcoat, to a striking green suede jacket to soft Merino wool crewnecks and striped tees that team well with the brand's versatile overshirts. We chatted with Monsieur Mahéo over Zoom from his Paris studio to talk about his brand's roots, what French style means to him, "New Wave" film stars, and what a man needs to work from home. (Hint: it's not sweatpants.)
Could you briefly explain the idea behind your brand?
The idea I had eight years ago was all about sticking with your values. It started with understated authenticity in the product, and the value was also super important. I thought about humanity, resources and about how and where you produce the product. I decided to work only with Italian, Japanese and English materials and fabric. Point. That was it. I said to myself, I can do it like everyone else or do it slightly better by working impossible. We manufacture in Portugal because I knew I could buy and use much higher [quality] material and receive a high value. All of this beautiful material that we use, well, Hermès uses it for their tailoring, Boglioli uses it, but it's two times more expensive than us.
It's a product that is not ground-breaking, frankly speaking, because that's not me. I have to design things I want to wear as well. Just because a few seasons ago streetwear was really strong didn't mean I was doing streetwear. And there was one thing that was super important when I started: I said, a suit is a jacket and pants. It's going to have two price tags, and people are going to wear it the way they want to wear it. At first, people were like: Is it separate? Can I buy it together? What is the price together? Now we have customers who get it and just come and buy some jackets because they know they can wear them with denim and chinos. You get a lot of freedom and a kind of nonchalance in the way you can wear it that our customer really likes.
The pieces all work really well together within each collection, but between seasons as well.
There is, for sure, a continuity. We have kept our DNA for the past eight years and just slowly [changed] the point of view on some pieces like the oversized coats, or a new take on the denim jacket, or playing with the fit of pleated or non-pleated pants because you can't have eight years with the same stance.
For example, for years, everybody was telling men, you look much better and slimmer in flat front pants. So, when we started with a pleated pant, the guys were like, no way I will wear it. Now it's our best-selling pant. So I think it's perfecting the fit, but also staying true and continuous. We evolve. It is something that is really moving and adapting to the time.
When we do a runway show, 95 percent of it will be in store. We don't design for runway; we don't create things we don't believe in. It all has to stay true to the street and to people who are going to wear it. That's a focus that is extremely important to us.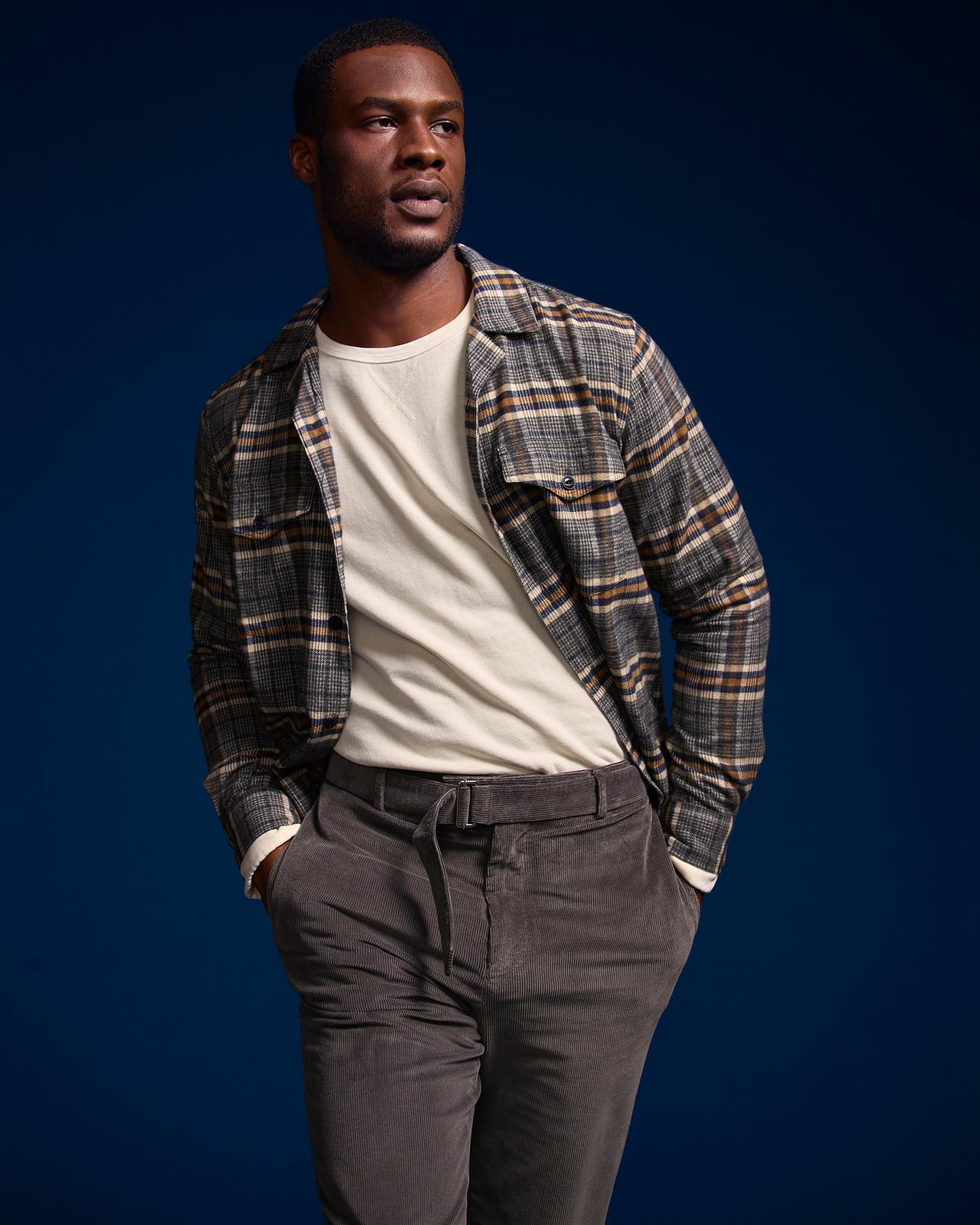 Looks from Officine Générale's latest collection.
Officine Générale is also inspired by your family, correct?
My grandfather was a tailor. He opened a fabric store and a tailor shop in 1945 just after the war in France, and he kept the fabric store until 1995 – 50 years. When I was young, I lived in Brittany and had a house near a small city called Vannes. I grew up with the fabrics. He had a wardrobe in the corridor. When you were opening it, there were suits, from one tuxedo for winter in black to dark and mid-brown, everything was classified by colours and weights.
And the other side was the same thing for summer. You were starting with a fresco wool in a tuxedo and then on the suit; single-breasted, double breasted; navy, navy, navy; grey, and finally, an ecru linen suit. That was one of the lightest pieces he was wearing in his summer. And there were shoes for winter and shoes for the summer underneath. That was one of the most beautiful wardrobes I have ever seen. That was his thing; he was passionate about it.
He was never working [in his shop] on a Monday, but he was working in his garden in his three-piece suit (without a tie). He always wore it together, never with a chino or denim. And he was never going out into the city in his car without a tie –– even on a Sunday morning. On the other side [of the family] there was my father and my grandfather –– they never wore a tie in their lives. Never. They were working [as oystermen] so it was chinos, oxfords Sebago and Sperry deck shoes, raincoats, indigo blue overshirts, chambray, denim…maybe navy blazer when they were really dressed up, but that was it.
So, I have two worlds: one super down-dressed and vintage, and one very up-dressed. When I started Officine, that's my DNA. The suits are shown with a T-shirt, or chambray shirt but always a down-dressed look with a soft shoulder and soft construction, not a lot of canvas in the jacket –– a down-dressed version of the suit. That's was really a big focus at the beginning when we started.
That all sounds really perfect for kind of this current moment that we're living in.
Well, I think so. For Spring/Summer '21 we have done that reinterpretation of the suit – not even thinking about "work from home" just thinking about a new proposal –– how to show the suit differently. That's the angle when we have an outfit where it's a T-shirt in linen, a sweatshirt, and pants. It's three different fabrics, three different factories, they are all garment died and they all perfectly match. You have to be able to wear the chino with the linen t-shirt, the chino with just the white tee and the sweatshirt on top of – to have that matching identity, that's the essence of the suit.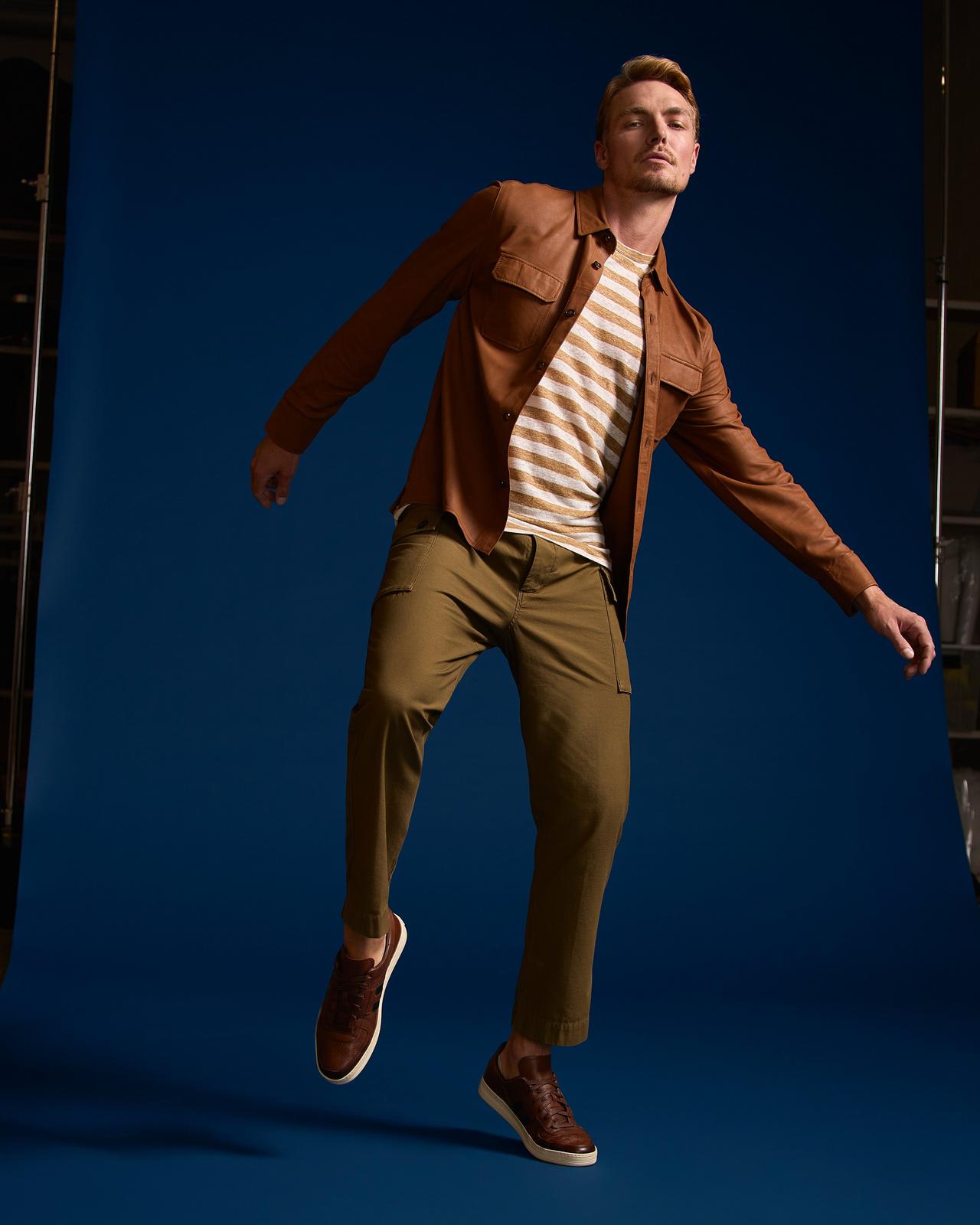 Looks from Officine Générale's latest collection.
At Harry Rosen, we carry a lot of Italian labels. What is French style for you, how does it differentiate itself and how has it made a mark on your designs?
In France, we have very strong feelings about American icons: Steve McQueen, Robert Redford, James Dean. There's an interview with Robert DeNiro where he explains his view on cinema and what the French "Nouvelle Vague" movement brought to the world cinema. It was huge for him. He was saying, when I look at John-Paul Belmondo in À bout de souffle, I knew I wanted to be an actor. I knew because it was totally different than everything I had seen before. [Belmondo's character] is not a nice guy, but he's beautiful at the same time, he's extremely nonchalant, there is a bit of arrogance in the way acts and the way he looks, and to me, this is really key when you talk about French style. You have to refer to that end of the 60s "Nouvelle Vague" and the films of François Truffaut and Jean-Luc Godard. [The characters] were wearing the same outfits as their fathers except, instead of putting on a jacket, there was a leather bomber. The knitted silk tie was not tied up but slightly lower with one button on the shirt open. And they brought denim into it. They brought something that changed the whole look.
We have some icons in France that are super strong. Alain Delon was amazing. Serge Gainsbourg – you talk about someone that has been wearing a military shirt, a pinstripe suit, or a navy double-breasted blazer with a chambray shirt or a white T-shirt or beached denim all his life. All his life, he's worn five or six pieces – it was always the same look every day. That's the essence of style.
In the U.S., after [Labor Day], you can't wear white denim. It's like, forget about it! I was in New York in January, and I was wearing white denim, and some guys were laughing at me. And what did they say? "For sure he's French." Yeah, of course! We have a point of view and a way of mixing things. The Italians are going to be super dressed up or super [dressed down]. When they wear something, they all wear the same thing. We don't have that in France, really. There are many different things, but it's one attitude that's different from everywhere else in the world.
Do you have films have or books that influence you and your collections?
Always, always. It can be old movies; it can be new movies, but I look a lot at the French "Nouvelle Vague". I look also at old images and a big fan of photography. Helmut Newton. You always find some great inspiration if you look at his books. I love Japan because I think their vision and the ways they can reinterpret an American university style are super modern.
I live for more than 20 years in St. Germain-des-Pres, where all the jazz clubs used to be, where all the writers used to be. I bought the apartment of an Italian writer that was a part of the "Nouvelle Vague", Italo Calvino. The way they behaved the way they were – I mean, there was no AIDS, there was no Covid, there was nothing at that time – there was a total freedom in the way they were expressing themselves. I mean, they were drinking way too much, they were partying and smoking way too much – but they were actually alive. You can see some of the movies, or the attitude of a Serge Gainsbourg, like there were ashes on his suit, and he was doing like this [nonchalantly brushes shoulder of jacket]. Like, I know I have a fantastic jacket, but I don't care [that I got ash on it]. I love it and I'm going to wear even if there is a [cigarette burn] hole in it because that's the way it goes.
Could you enlighten us on your work from home routine? How have you dressed during this time? Has it changed?
To be really honest, I continue to dress myself the same: a crewneck in Merino wool or cashmere when it's colder, flannel or fresco wool trousers, always or most of the time Converse sneakers, a jacket, a T-shirt, a cardigan, a coat, a big scarf that I always have with me because I cannot catch a cold.
So no, I have kind of a work uniform, which is I can wear the same thing from Monday to Sunday – in grey, in navy, sometimes with the white denim or with an olive chino. I have a houndstooth coat this season that I love, but the first coat I'm going to take in the morning is a navy or a grey coat. And I wear it with full navy. I don't wear patterns, and I'm not a colour guy.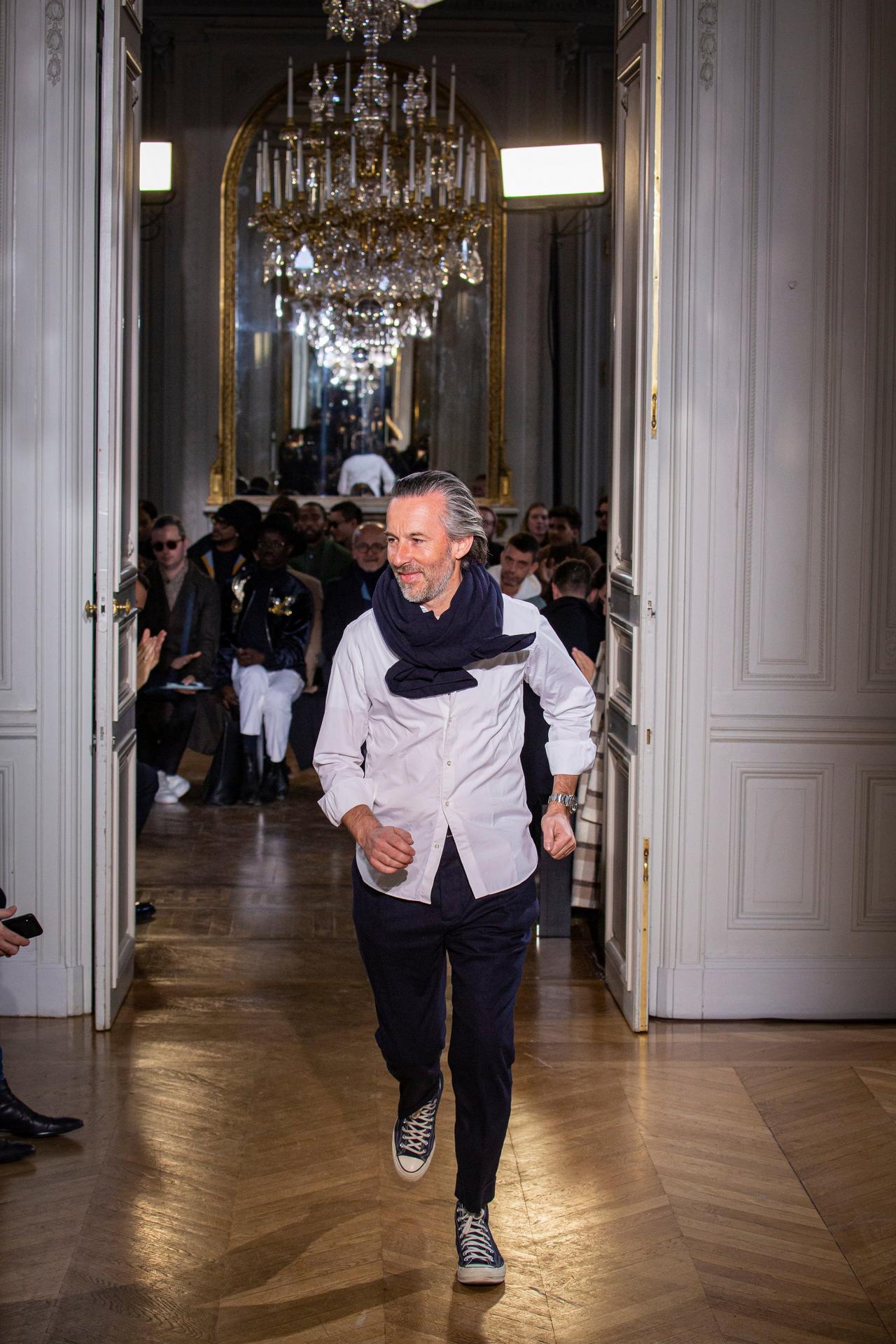 Mahéo thanks the crowd after his FW runway show.
I was going to ask which pieces you recommend to work from home in but I think that just described it.
Well, yeah, I think there was this big debate on the work from home or the suit is dead and we're never going to dress up after this. I think it's total bullshit, myself. The people who actually are working from home, if they're going to go out, will put on a jacket. They're not going to go in sweatpants to meet with friends in a restaurant. I think it's like, let's put this life behind us. The Birkenstocks and the sweatpants I was wearing too much, I'm instead going to put on some jackets, I'm going to put on a dress pant, I need to look and to feel different.
My advice is you have to feel comfortable if you want to look good. If you're ugly, you're beautiful; you're good looking, you're bad looking, you should feel comfortable in the clothes you wear. You want to feel confident; that's the most important thing.
What's the most memorable thing somebody has told you about your designs?
At the beginning, somebody from the industry told me, Pierre, don't listen to the people. They will always tell you what you have to do and not do. Stick to your roots and do what you feel important to do. Don't go on the right side when the market is going on the right side, don't go on the left side when fashion is on the left side – stick to your roots because fashion is a circle, and everything comes back.  I think he was totally right because I'm thinking about a brand that I won't name that went from preppy to super skinny and rock (when it was the Saint Laurent era) and then went full streetwear when Virgil Abloh had success. They are almost gone today because you can't be new every two years.
We have no logo, and the bet I made years ago was to be about quality and to be about fit. It's very easy to do a baggy hoodie; it's very difficult to make a jacket that fits most men. And so, it's working on the details. I keep my DNA and I think that's what makes the story valid today.
This interview has been edited and condensed for clarity.