Michael Jordan's Under-Appreciated Style
How His Airness influenced not only the game, but future pro athlete style.
By: MARC RICHARDSON
Date: 2020-04-27
Michael Jordan is the best to ever play the game of basketball. Full stop.
As much as pundits try to turn it into a debate, it's not. But, if you do need convincing, ESPN and Netflix's new documentary, "The Last Dance", is chock full of arguments from Jordan's contemporaries and those who followed in his footsteps alike. It's undeniable that he changed the fate of the Chicago Bulls, the NBA and the way the game is played.
"The Last Dance" also showcases a side of Michael Jordan that many are unfamiliar with: One where he's not only well-dressed but dressed with the kind of effortless confidence that we all aspire to. Jordan's more recent sartorial choices—particularly those in the decade immediately following his retirement—inspired mockery and derision, not praise and acclamation. But, if "The Last Dance" reaffirms Jordan's sporting greatness, it also offers a glimpse at how His Airness used his personal style as an extension of his on-court persona—in fact, he shaped how players dress today.
The Association has always had stars with flair. Take Walt "Clyde" Frazier, who led the New York Knicks throughout the '70s and became known for not only delivering the franchise its two championships but for his eclectic off-court style, wearing daring tailoring with ease. He was also one of the first players to have a signature shoe. The West Coast had Earvin "Magic" Johnson, whose style was a perfect fit for the glitz and glamour of Hollywood. Both came before Jordan, as did countless other players with an eye for extravagance.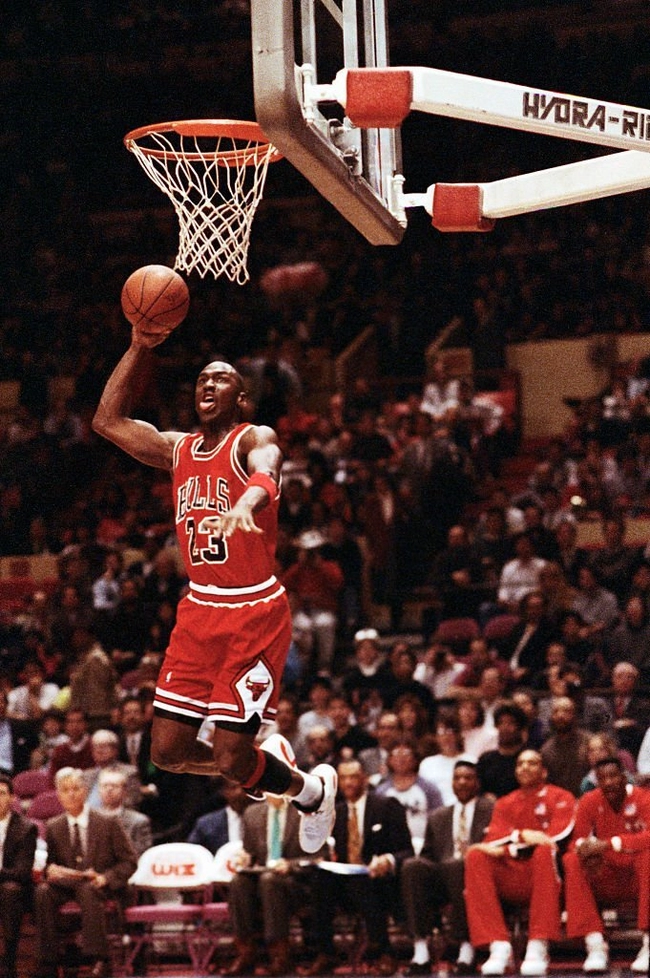 "Whether he was walking into the locker room in a suit or sweatpants, he looked good doing it, and he knew it. It's a cycle of confidence and swagger and charisma that begets evermore."
---
But what Jordan wore—and how he wore it—was different.
There was something about how Jordan carried himself in his clothes that was inherently effortless and natural. While he was at the University of North Carolina, he dressed like your typical early-'80s college kid with a rugby shirt tucked into his jeans strolling across Chapel Hill in loafers. If it was raining, he had a tasteful umbrella that probably wasn't Gucci, but featured the same cream, green and red palette that was refined without being ostentatious.
Even when he graduated to the NBA, the subtle confidence with which he dressed remained. Take, for example, the 1985 dunk contest, where Jordan competed alongside some of the most established names in the game: Clyde Drexler, Julius "Dr. J" Erving, Dominique Wilkins and Larry Nance. There's a photo of the participants posing together and there's something that makes Jordan—a rookie, no less!—stand out. It might be the small gold chain, or the white socks worn just a bit shorter than everybody else, or his shorts not being quite as short as the rest. Or perhaps it was a combination of everything and the ease he projected—the confidence and demeanour of a leader and winner.
That flair became synonymous with Jordan lore.
It stands to reason that an athlete would thrive in sportswear, and Jordan certainly did. He had a knack for wearing the right headwear as well, such as when he pulled off a beret with a hoodie when the Bulls toured Paris in 1997 and made it look like the most natural pairing in the world.
He also loved flat caps; nowhere was that more apparent than on the links, which Jordan notoriously loved hitting whenever he could. And when he did, he did so in style. As "The Last Dance" reveals, Jordan played a round of golf with Danny Ainge on an off-day between playoff games against Ainge's Boston Celtics. Competitive mind games aside, you'd be hard-pressed to put together a better golf outfit: a nice polo, with his tasteful gold chain poking out, well-fitting shorts, and a classic flat cap. Golf courses can stifle stylistic creativity, but Jordan oozed cool. The next day, he scored a playoff record 63 points.
As Jordan's stature grew, his style matured. At first, it meant trousers and suspenders, sans sport coat, over a short-sleeved black shirt. But gradually, he moved on to suits. He was particularly fond of Armani suits. In fact, he was fond of suits throughout the '90s, which he'd have customized at a renowned Chicago tailor. On the same trip to France in '97, Jordan went from a hoodie and beret to a suit and tie that would have fit in among the Gordon Geckos of the world. By the mid-'90s, he was the King of Sneakers, but would show up to late-night TV wearing suede loafers.
Two decades after he graced their cover, GQ described Jordan as being the unsung hero of the '90s power suit, and his penchant for Armani tailoring was in keeping with the trends. Jordan's style in the '80s and '90s wasn't performative; he wasn't doing it to fit in. He was wearing power suits—and making even the most daring look good—because he knew he was the best basketball player on the planet.
Whether he was walking into the locker room in a suit or sweatpants, he looked good doing it, and he knew it. It's a cycle of confidence and swagger and charisma that begets evermore.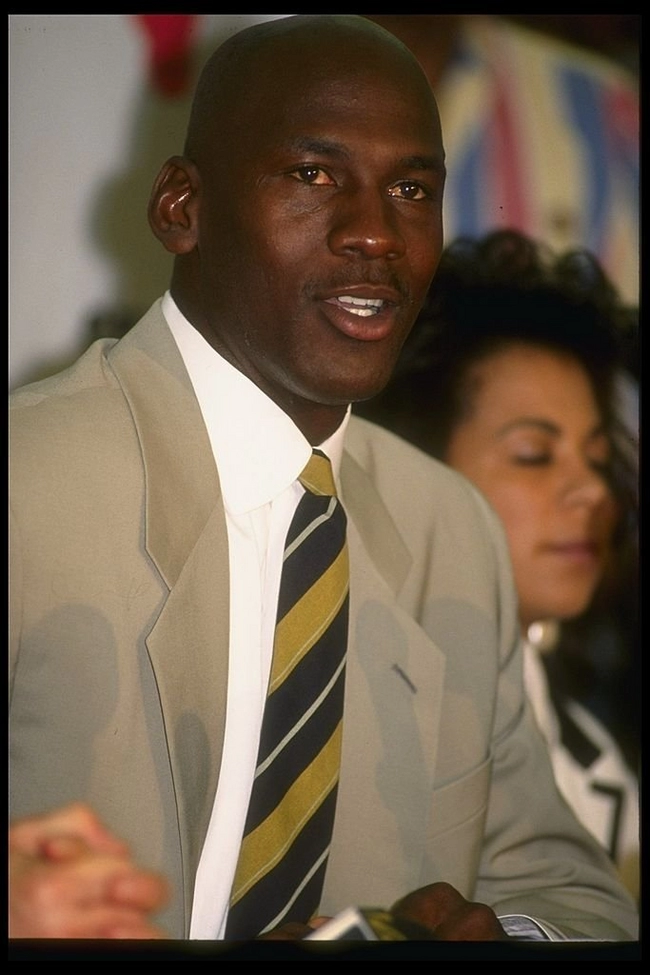 "He was a leader on the court, and he dressed like a leader off it."
And that is how he shaped how modern players dress. Today's NBA stars are immersed in the world of men's style. Whether they're wearing Thom Browne suits or Polo Ralph Lauren sweaters, they take pride in how they look. It all projects confidence.
The Michael Jordan that many of these players knew in their teens was probably Jordan, the team owner who wore jeans that were too baggy, or suits that were too droopy. But that's not the Jordan that they grew up wanting to be. Every basketball-playing kid wants to be like Mike, whether they know it or not. They want his sneakers. They want his jersey. They want the little gold chains and the wagging tongue. They want the confidence and the swagger.
Jordan changed basketball in that way. He was a leader on the court, and he dressed like a leader off it. Sure, there were some faux pas along the way, but I'd exchange a regrettable outfit or two for Jordan's inimitable swagger and the ability to look effortlessly cool in a hoodie and beret.
Marc Richardson is a fashion writer and photographer based in Montreal. His work has appeared on Fashionista, Grailed and Garage Magazine. Follow him on Twitter.