An Easy, Breezy Guide to Batching Cocktails
The Freezer Cocktail is the Secret to Easy Entertaining
By: Kate Dingwall
Date: 2023-05-18

When friends come over, the obvious move is to impress — stir up a cocktail or crack a bottle of something special and offer up drinks in your nicest glassware. But there are flaws to that plan.
Firstly, making more than one cocktail requires ice (and lots of it), plus plenty of stirring, shaking, and garnish-prepping. It's certainly cool to make your own cocktails, but it also means every time your friends want another drink, you're back on bartender duty.
There are a few ways to avoid spending the evening in the kitchen. First, you can stick to one round of cocktails then open up a bottle of a breezy red or celebratory bubbles. Or, consider batched cocktails.
Essentially, a batched drink is a larger quantity of cocktails made in advance then left to chill in the fridge or freezer. Typically, this is done in an old wine bottle so when friends arrive, take out the icy bottle, and pour the perfectly-chilled drink into a glass.
"Batched cocktails are ideal for entertaining at home and for events," says Grant Sceney, the Creative Beverage Director at Fairmont Pacific Rim in Vancouver. "Long gone are the days where people have to wait 20 minutes for a cocktail — top bars around the world are batching cocktails for consistency and speed. Why not? If you can get a cocktail in less than a quarter of the time without compromising quality, then it's a no brainer!"
Keep a batched cocktail in the freezer — when your work day goes long and you're in need of a stiff drink, pour out a martini or negroni as needed. It's an adaptable and efficient sanity saver — a low-effort, high-reward hack to a crisp negroni, martini, Old Fashioned, and more.
But there are a few things to keep in mind with your batched cocktails.
"When batching, you need to take into consideration that the step of shaking or stirring has been removed," says Sceney. "So you need to account for dilution and chilling while you batch a drink. Generally, one cocktail has approximately 1 ounce (or 30ml) of dilution. If you were to make a freezer martini, that means you'll need 2 ounces of gin, 0.5 ounces of vermouth, plus 1 ounce of water in each drink before you bottle it and put it in your freezer." When you remove it from the freezer, it can be poured straight into a martini glass with a garnish of your choice. Or, fill a glass with ice, squeeze in a lemon, and top with soda water for a refreshing highball.
You can turn a whole number of cocktails into freezer cocktails: try a high-proof Old Fashioned (add half an ounce of water to each recipe) with bourbon, rye, or rum. Or, make your Sazerac or Manhattan (again, add a hint of dilution) into an already-chilled, pour-and-serve drink.
You can even turn your favorite citrus-forward drink into a batched method. "If you are going to batch items that have citrus, juices and syrups, you can still use the dilution method of being served on a large cube or neat," he notes, "but be sure to give it a quick shake in the bottle straight of the fridge to ensure it's well and nothing has settled!
Ready to get started? Here's Sceney's tried-and-true Negroni recipe. "A simple Negroni is a favorite of mine — it is equal parts so it makes batching so easy."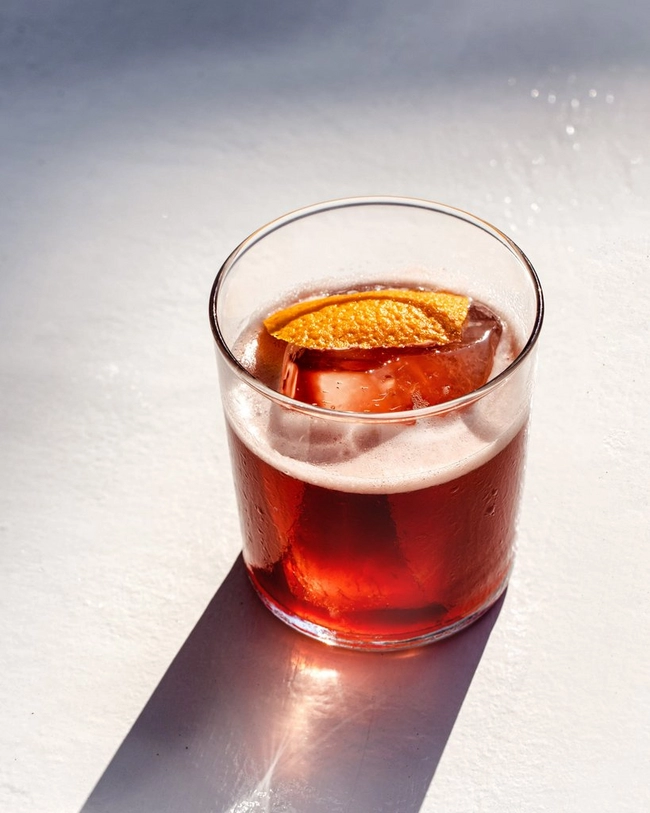 The Batched Negroni
6 ounces (200 ml) Campari
6 ounces (200 ml) Sweet Vermouth
6 ounces (200 ml) Gin
6 ounces (200 ml) Water, purified if possible
Recipe:
Fill a 750ml bottle with a portion of the mixture. Put in the fridge for 2 hours, then pour over a large frozen ice cube in rocks glass and garnish with an orange twist. Happy batching!
Kate Dingwall is a writer and editor covering the intersection between spirits, business, culture and travel. By night, she's a working sommelier at one of the top restaurants in Canada. Her work has appeared in Food & Wine, Rolling Stones, Eater, Toronto Life, Toronto Star, and Porter Magazine. She frequently appears on both CTV and NPR, has co-authored a book on gin, and judges Tales of the Cocktail.