Atelier Munro Creates the Most You Suit Yet
Men's custom suits aren't a rarefied luxury, with Atelier Munro.
By: HARRY ROSEN EDITORS
Date: 2020-07-18
If you have ever ridden the escalator to the lower level of Harry Rosen's Bloor Street store, you know there's a distinctly casual vibe going on. It's more relaxed than the higher floors, with acres of designer denim, graphic t-shirts, and designated sections for brands that pack a youthful punch.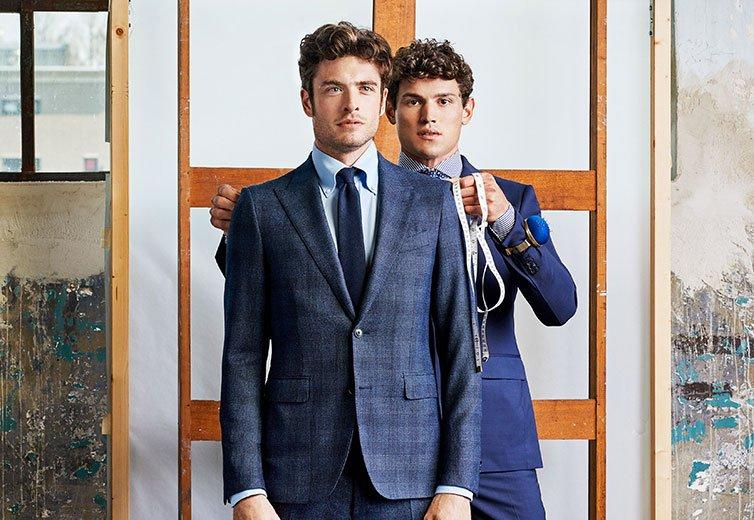 But there's something else about the area that has the whole company buzzing: Atelier Munro's custom suits for men.
The section looks simple enough, with a few bar stools surrounding a high-top table and vibrant fabrics on display. It's a place for conversations, for discoveries and decisions, for having fun. It's where you go to design a suit, sports jacket, or tuxedo that is uniquely yours—tailored for you and you alone.
What does a Munro suit look like? Well, that's your decision to make.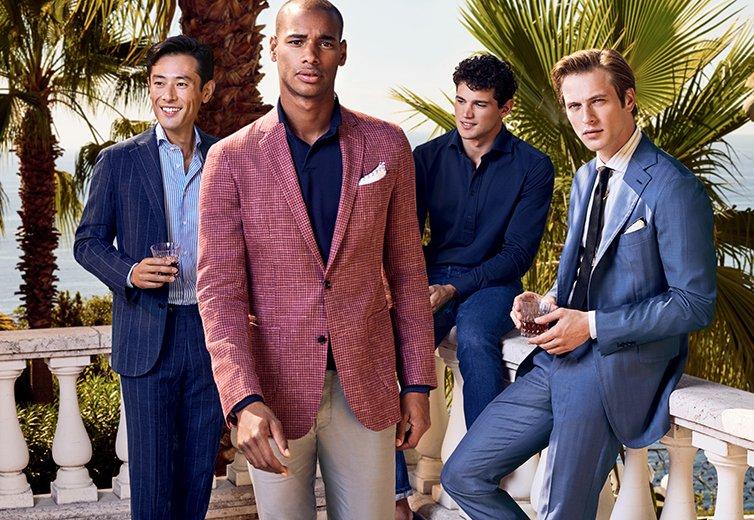 Take a look around—chances are, the Clothing Advisors you see are wearing something from Atelier Munro. There's a man in a bold blue windowpane three-piece suit, cut slim and close to the body. It's made from Loro Piana performance fabric that blends wool, silk, and Lycra for maximum movement. There's another Advisor in an unlined, unstructured jacket in radical tweed, every detail personalized.
The quality of workmanship is outstanding, the materials exemplary, and the styling is sartorial but dashingly contemporary.
Did we mention the fact that each suit, made from scratch, starts at less than a thousand dollars?
If you would like to be measured for a custom-made garment or require tailoring, please note that all Harry Rosen clothing advisors will wear face masks and gloves during your private session. While we will practice as much physical distancing as possible, some contact will be required, given the nature of the process.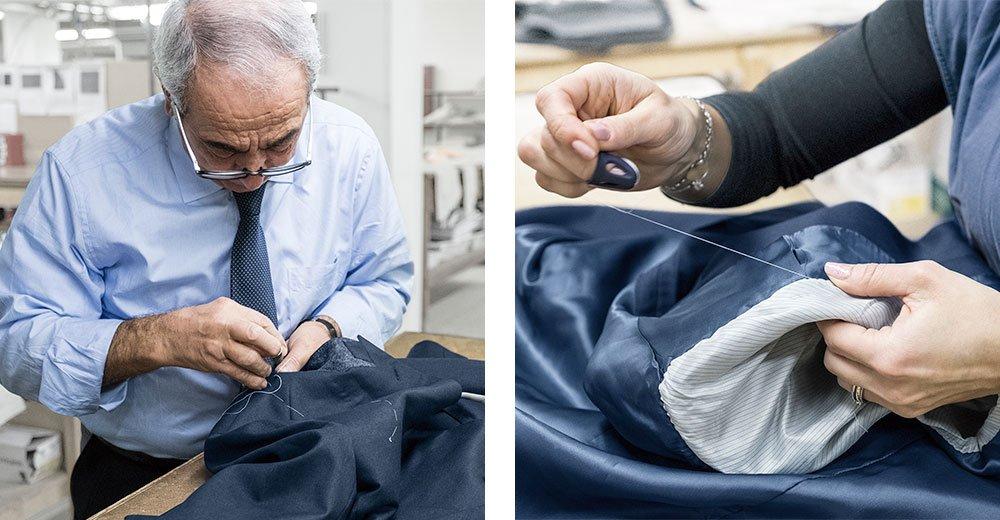 You've probably never heard of Atelier Munro until now. That's not surprising. The company was started in 2007 by a group of young guys in Amsterdam who wanted to bridge the gap between tailored dressing and a modern approach to style. Together they came up with an idea for making customized apparel that was like made-to-measure only quicker, easier, less expensive, and more adaptable.
Customers could basically design the garment themselves. Jeff Farbstein, executive vice-president and general merchandise manager of Harry Rosen, first discovered the Munro team at a menswear fair in Florence. "I started talking to these guys," he recalls, "and their enthusiasm, their passion, captured me. I knew there was something there. But it was only after I'd talked with them three or four times that I figured out what I was going to do."
Farbstein had remembered a moment a year or so earlier that made a deep impression on him. A woman brought her 20-year-old son to the lower level of Harry Rosen's Bloor Street store to buy him something. "But he was a little too tall, shoulders a little too big from working out, to be fitted off-the-rack," he says. "The salesperson, quite rightly, took him up to the fourth floor, to the made-to-measure area. I could see the disappointment in his face that he had to go up to his father's or his grandfather's depot for made-to-measure. He wanted to stay downstairs where the vibe is cool. That memory was my inspiration.
And so began the first steps towards Harry Rosen's exclusive partnership with the Amsterdam-based brand.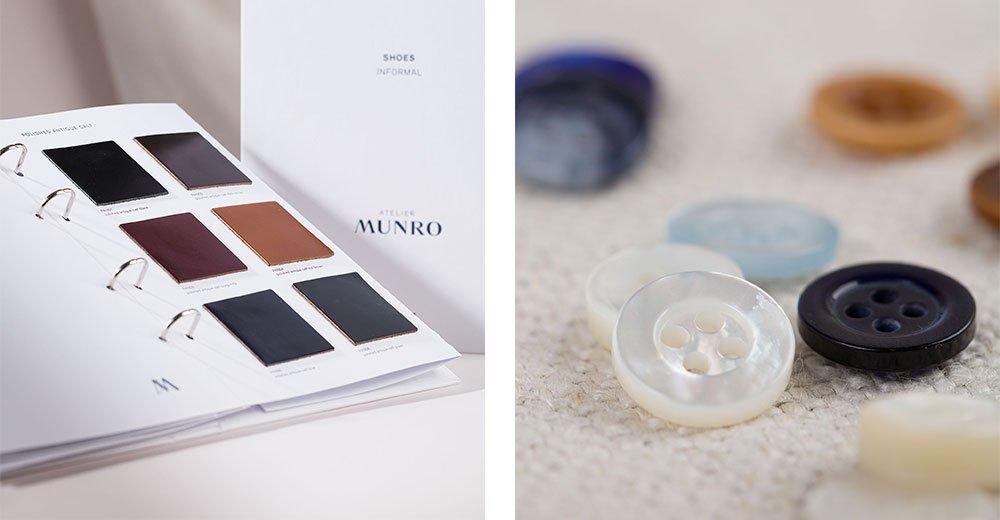 Each experience with Atelier Munro is the same from Toronto to Vancouver. It begins with a customer sitting down with the store's Munro specialist and browsing fabrics. The season's newest swatches are displayed for you to see and feel. Hundreds of other fabrics are also available—some from Italian mills, some revolutionary, like a jersey normally used for track pants that can be tailored into an incredibly soft and comfortable suit. (Perfect for working from home.)
Pick the one you like, and the Advisor will scan its QR code to find out its availability and send you a high-res image. The same app tracks your order at any time, from start to finish.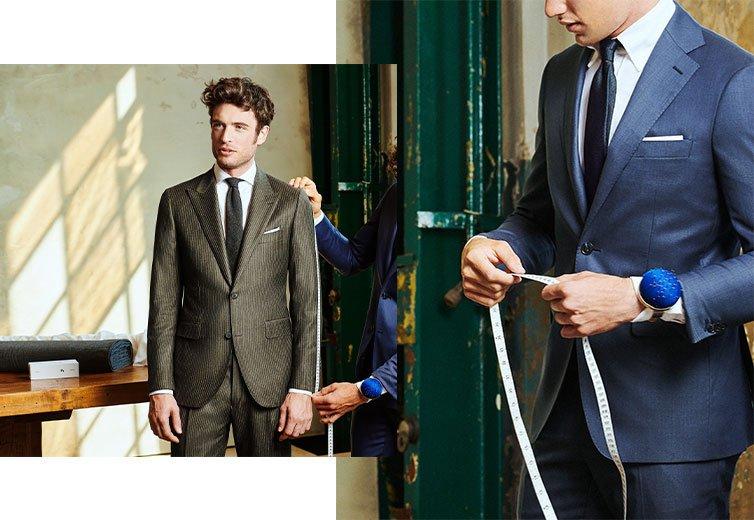 Then, the Advisor will take your measurements.
That, too, is revolutionary.
Every tiny detail of fit is recorded digitally, along with every decision, every change, and every purchase you make. You can save multiple fit profiles for different times of the year or for various kinds of garments—a man often needs slightly different cuts for an unlined or half-canvas jacket.
Good so far? Now the creativity really kicks in.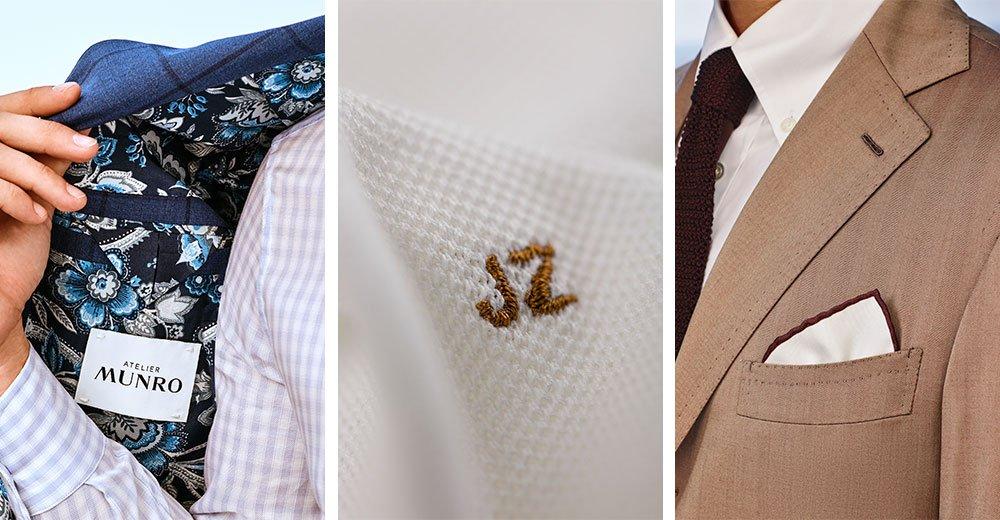 Flip through the booklet of structural and tailoring details. Were you thinking of an exaggerated Neapolitan lapel, soft shoulders, or more of a Ralph Lauren feel? What kind of pockets are you after? Surgeon's cuffs are standard, but the buttons aren't. Would you like horn or mother-of-pearl?
And then there's the question of lining—everything from tiny shamrocks to psychedelic paisley to shoals of fish and pin-up girls on motorcycles. Monogramming is also available, and clients have been taking full advantage of its limitless opportunities. One guy had "Time for cocktails?" embroidered into his jacket lining and his phone number stitched under the collar.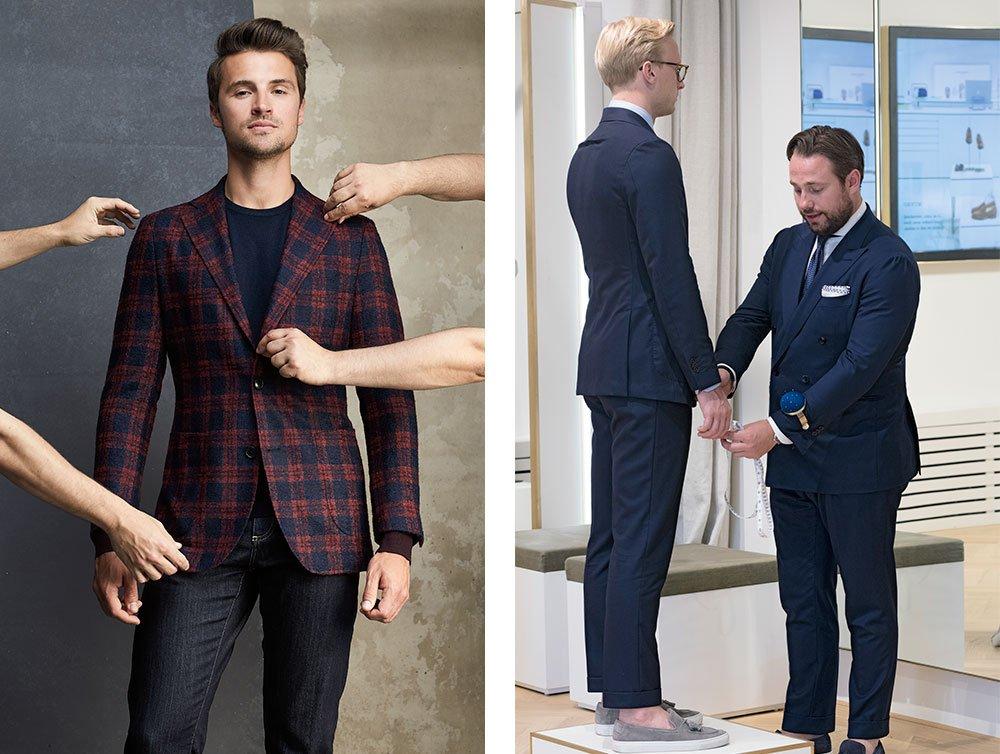 People have been snapping photos in their Munro garments wherever they are in the world, showing off their fancy linings, one-of-a-kind details, and playful fabrics, and sending them to their Clothing Advisors back home. There's now quite a collection, known fondly at Harry Rosen as The Munro Chronicles.
It's an exhilarating feeling to play Design God, and then, approximately four weeks, receive a sharp suit that looks and feels like it must have cost thousands of dollars but in reality, came in at just $950. Want another one? All your details are now saved in your digital file. Just come in, pull up a stool to the high-top, and let the fun begin.
Get Measured at Your Nearest Harry Rosen