5 Grooming Resolutions to Make in 2022
New Year, New Routine: Easy Grooming Tips That Can Make a Big Difference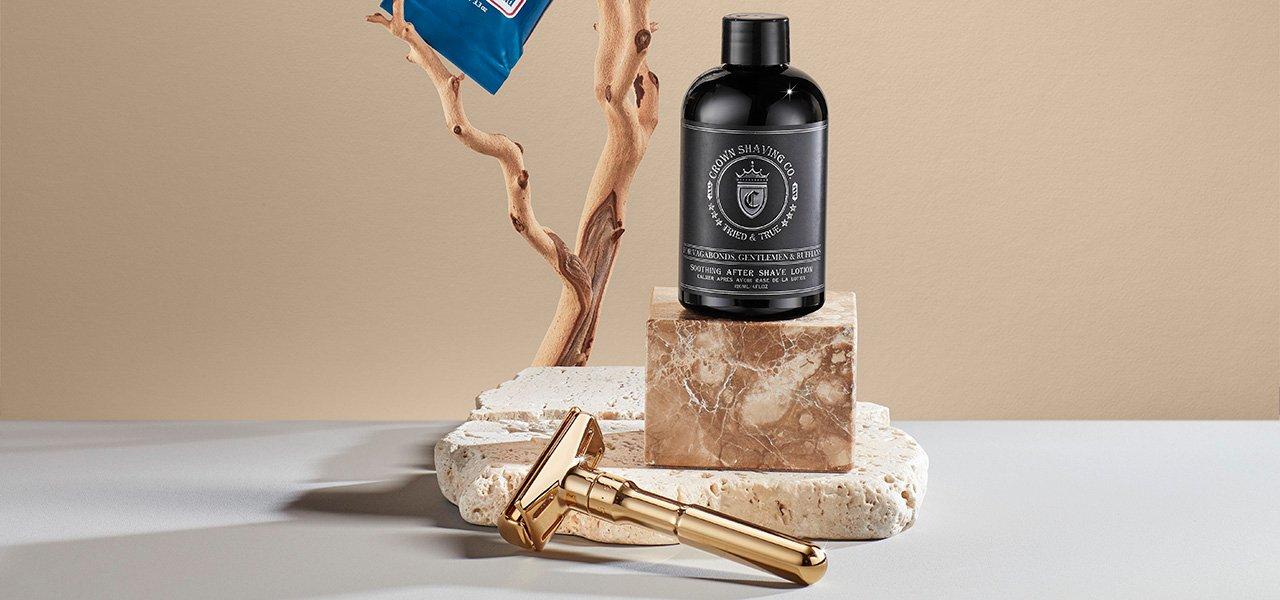 Update Your Seasonal Scents
It's our belief that a man needs at least two trademark scents — one for the colder months, one for the warmer months. If you're as into your spirits, you can equate this rule to drinking darker liquors (like a peaty Single Malt Scotch or a spicy Caribbean Rum) in winter and lighter tipples (like a London Dry Gin or acidic New Zealand Sauvignon Blanc) in summer.
Throughout 2022, why not further define your collection of personal fragrances? In general, opt for brighter, more floral scents in the summer — like 104 Eau De Parfum from Bon Parfumeur — and spicier, more smoky scents in the winter — like TOM FORD's Oud Wood. Both are sure to help you express the many sides of yourself.
Enter: Exfoliation
It's about time more men discovered the many benefits of regularly exfoliating their skin. In 2022, let us help you find the best exfoliator for your skin type on the market and then work it into your weekly routine. Amazing exfoliators like this Face Buff Energizing Scrub from Jack Black or this Clay Mask AHA by Baxter of California are great places to start. Alternatively, we can also point you in the direction of our brief Grooming Quiz to find out exactly what your skin is asking you for.
Either way, you can expect your skin to look brighter, clearer, and more youthful after a few deep-clean exfoliating sessions.
Make Moisturizing a Priority
Simple skincare philosophy is as follows; exfoliating strips your skin of the dirt and dry flakes, moisturizing replenishes your skin with satisfying hydration down into your pores. Once you've given your face and body a good exfoliating scrub down, you need to ensure you rejuvenate it with the good stuff again.
As far as moisturizers go, we like Jack Black's Dry Erase Ultra Calming Face Cream as well as their Double Duty Face Moisturizer with SPF 20 for protection from the sun's harmful UV rays.
Get Handy with a Straight Razor
The era of widespread straight razor use beckons back to figures like Ernest Hemingway, Errol Flynn, and James Bond. These were the days when having a clinically clean, smooth face was considered part of the uniform (bar a distinguished moustache). Their tool of choice? The straight razor.
With a straight razor, you'll achieve a more precise, controlled shave and reduce the risk of ingrown hairs and nicks. It's also a more inexpensive and environmentally friendly approach than cartridges. Plus, there's almost nothing more masculine than knowing how to cut the perfect morning shave with such a beautiful tool. Take your time learning (and enjoying) the craft of shaving once again by investing in a quality straight razor like this eye-catching Pearl Straight Razor or this sleek Flowing Straight Razor, both by German brand DOVO.
Give Your Moustache More Than Just a Month
About moustaches, 2021 showed us a brief glimpse of what we're calling the 'Moustachaissance' — a major moustache movement that looks certain to continue. Just look to leading mustachioed men like Miles Teller, Michael B. Jordan, and Milo Ventimiglia for reference! (Your first name doesn't need to start with the letter 'M' for you to pull off a moustache.)
While moustache popularity has been limited to the month of November in the past (in honour of Movember), we think yours deserves more time in the limelight this year. That means more trimming, styling, and maintenance of your 'stache this year. These three products should be able to help you with just that: Caswell Massey Heritage Woodgrain Sandalwood Shave Cream, Merkur Detailing Razor, Hand-Crafted Grooming Scissors.
Embrace The Mani-Pedi
With lockdown limitations and forced closures crippling many of the small businesses that make up our local communities, supporting small businesses has never been as important. With that in mind, we see 2022 as the perfect time to finally embrace the mani-pedi at your local salon. Trust us, you'll have never been as proud of the way your fingers and toes look. Regular nail care has many benefits including stronger nails, smoother skin, increased circulation and – best of all – better-smelling feet.
But between appointments, look after your nails at home with Niegeloh's Havana XL Manicure Set and Nail Nipper or Truefitt & Hill's Soft Leather Manicure Set. Oh, and definitely don't forget to practice consistent nail hygiene while you're at it, perhaps with this one from Curator Bar Soap from Routine?