The Democratic Appeal of New Balance
From retirees to C-suiters to aging hipsters – New Balance's popularity transcends culture.
By: Calum Marsh
Date: 2021-05-05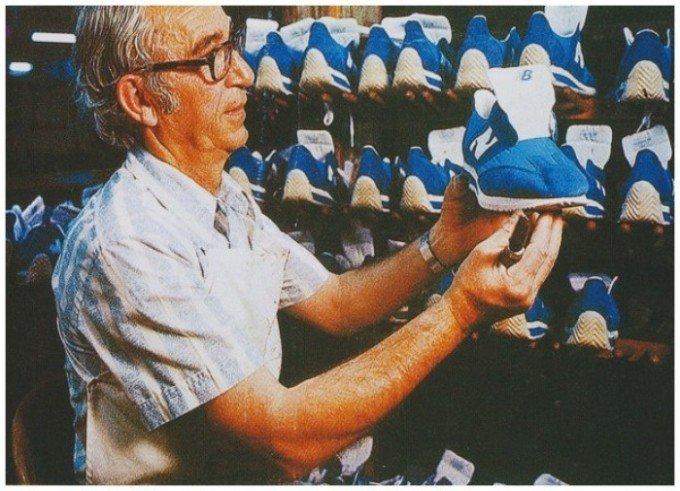 I live in a quaint, sleepy neighbourhood in the west end of Toronto between High Park and the Humber River. It's home to Ukrainian retirees, suburban-like soccer moms, C-suite Financial District types who don't mind a commute, cool Gen-Z teenagers who roam exclusively in packs, and beardy hipsters who tired of the downtown core, including me. Walk along the street on any given afternoon — even during the city's seemingly never-ending stay-at-home order — and you will soon notice a strange commonality. Almost every single person here, it seems, has the same thing on their feet: a pair of New Balance sneakers. Age, race, gender, socio-economic class: not footwear boundaries here. Everyone just gravitates to the same shoe.
The best sneakers tend to have strong cultural associations. The Converse All-Star became synonymous with a certain style of alternative rock music. Nike's Air Jordan, naturally, immediately brings to mind basketball and its iconic namesake. The Adidas Superstar is inextricably tied to the early days of hip hop. Even the simple checkered Vans slip-on is impossible to see without thinking of skateboarding. Associations like these can be transcended, of course — shoes aren't defined by one thing. But in the world of sneakers, no brand is as versatile as New Balance. The phenomenon is not unique to my neighbourhood. The classic New Balance silhouettes are simply as wide ranging and adaptable as kicks come.
Why New Balance? It helps that sneakers have become the dominant form of shoe throughout the world more broadly in recent years, making inroads into the worlds of business and commerce that have finally seen them accepted as staples even among professional wardrobes. (Paired with a suit or tailored denim, the sneaker has found a home as a reliable and presentable alternative to the enduring penny loafer and/or buffed dress shoe more broadly.) The sneaker's ascendance to ubiquity in the realm of high fashion, meanwhile, has collapsed the only conception of sneakers as common or unsophisticated — a high-end sneaker can now be just as cultured, refined, and elegant as the finest patent Oxford, with price tags to match at the top of the spectrum. Because no one has a bad image of sneakers anymore, no one shies away from wearing them.
The sneaker industry is worth billions of dollars. Even the sneaker resale market is worth billions — people are buying and selling ultra-rare kicks second-hand for huge markups, and pursuing the latest brand's hype collaboration or very limited colourway has become something of an amateur sport. New Balance is no stranger to these kinds of special-edition release and drops that light up social media: they've managed to steadily cater to the hardcore sneakerhead crowd with versions of their trademark silhouettes that are extremely rare or produced in short supply, and some of their collaborations, such as their recent work with trendy New York fashion label Aime Leon Dore, are among the most coveted sneaker releases out there. They've earned as much sneakerhead clout as Jordan or Yeezy, and they've got the serious sneaker bona fides to make the brand name cooler than ever.
But unlike Jordan or Yeezy, New Balance as a brand isn't focused only on the hype: Although there are some exclusive New Balance releases, New Balance shoes are still very much accessible, making these sneakers a much more democratic buy than some of their hottest competitors. If you want a great pair of New Balance sneakers, you don't have to line up overnight outside a sneaker boutique, or shell out ten times over retail price to some lucky kid on eBay. Some of New Balance's most popular and attractive silhouettes and colourways, such as the 237 and the 327, are readily available to buy at any time — where a lot of hype sneakers are niche items by their nature, New Balance kicks are accessible to all. That helps account for their ongoing success and ubiquity.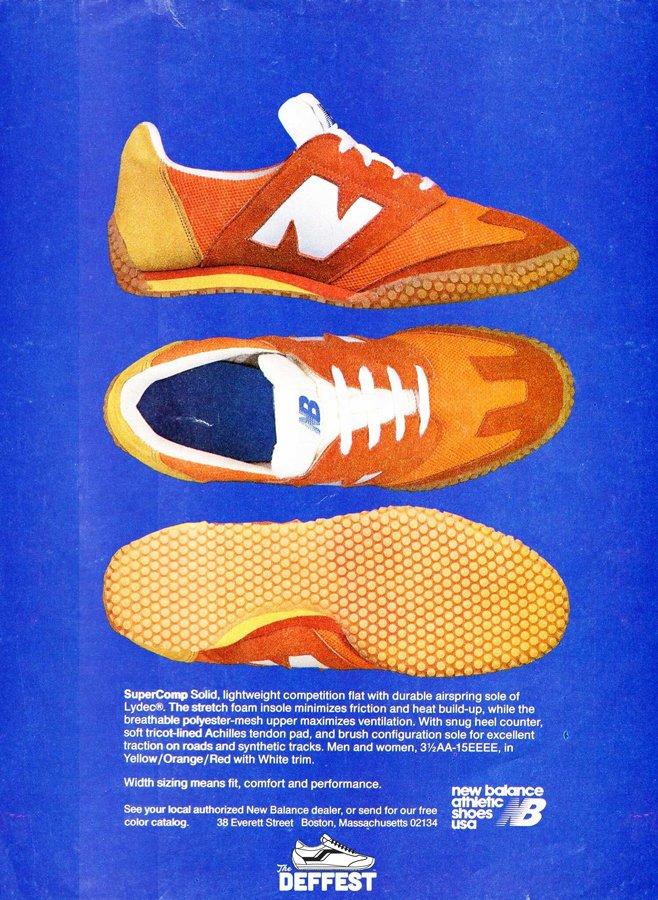 New Balance was founded as the New Balance Arch Support Company more than a century ago in Boston, Massachusetts, by an Irish immigrant named William J Riley, who, after observing the way chickens walked, developed a unique three-pronged arch support system for maximum comfort and balance. It wasn't until the 1970s that New Balance became New Balance Athletics and moved from arch supports only to actual athletic shoes, but being in Boston, where the marathon was becoming one of the most popular sporting events in the world, made New Balance the shoe company an almost overnight success. Their competitive edge was that their running shoes were manufactured in the United States — it made them more expensive, but the company trusted that the difference in quality would make them stand out.
It still does. New Balance sneakers are superbly well-constructed, using high quality materials and the latest innovative tech. Their performance running shoes are made with some of the most advanced athletic science anywhere: they have a Sports Research lab made up of mechanical engineers and biomechanics experts doing R&D around the clock, and what they come up with is state-of-the-art in the absolute extreme. A blogger visiting the lab for a tour in 2019 reported seeing the technicians analyzing and even literally dissecting their competitors' shoes to understand how they work and can be improved upon, as well as extensively testing athletes in their footwear to help combat common injuries.
A lot has changed since the company's turn to shoes in the 1970s, but interestingly, it's the classic styles New Balance coined in its early days as an athletic shoe brand that have made the biggest splash of late. The New Balance 327, one of its most popular silhouettes, was created by shoe designer Charlotte Lee and was deliberately made to pay homage to the strong legacy of the brand's heritage. Inspired by the New Balance 320 — the first of the New Balance sneakers to feature the prominent "N" across the side, which has come since to be seen as the brand's iconic insignia — the 327 updates the look and feel of that classic 1976 sneaker while exaggerating many of its most beloved qualities. The result is a retro sneaker that feels both instantly familiar and completely new. "It was combining old and new with the heritage that we have and then a contemporary aesthetic," Lee said in an interview last year. "So it felt fresh but also felt heritage."
The New Balance 237 was crafted as a successor to the 327 — a continuation of the 327's heritage-inspired aesthetic that takes the ideas even further. It was released earlier this year to rave reviews and the usual burst of enthusiasm from the hardcore sneakerheads, who have been snapping it up in different colourways since winter. Also designed by Charlotte Lee, it keeps the 327's oversized "N" logo, its foam wedge soles, and other design elements, while borrowing its overall look and feel from one of New Balance's most iconic runners, the COMP 100 racer from the late 1970s. Smooth, streamlined, and with an extremely slick retro-futuristic outline, it's one of the sharpest and most aesthetically pleasing New Balance sneakers on the market, and one that continues to push the envelope in how the brand is able to dig back into its history and make old ideas seem new again.
But the most surprising thing about both of these silhouettes is the versatility, which is immediately apparent. You could wear a pair of 237s or 327s on a bar patio, at a rock concert, to a work meeting, for a casual evening stroll. You could wear them in khaki shorts or trim designer denim or a pair of office-ready slacks. Which is no doubt why the New Balance look has infiltrated neighbourhoods like mine so utterly. The Ukrainian retirees, the suburban soccer moms, the Financial District holdovers, the packs of teens, the bearded hipsters like me — however little else our individual senses of style might have in common, these sneakers have managed to appeal equally to all of us. That's an impressive range.
Calum Marsh is a writer based in Toronto. His work appears in GQ, Complex, and The New York Times.