Patrick Assaraf: Calm, Cool & Collected
The everyday elegance of one of our favourite Canadian designers.
By: JACLYN LAW
Date: 2020-03-26
Patrick Assaraf knows what men want in a wardrobe: comfortable, flattering, well-designed pieces that are easy to care for and made to last. His eponymous sportswear line delivers on that wish list, and then some. It elevates wardrobe staples to an exceptionally high standard of quality – yet the prices are surprisingly modest.
Harry Rosen has carried Assaraf's T-shirts and knits for several years; they're so flattering and soft to the touch that customers often buy three or four at a time. This spring, you'll find the de- signer's full collection of beautifully made basics, from silk-cotton polos and linen sport shirts to blazers, suits, outerwear and swimwear. Each piece offers incredible versatility and value, whether you're building a new wardrobe or enhancing your closet.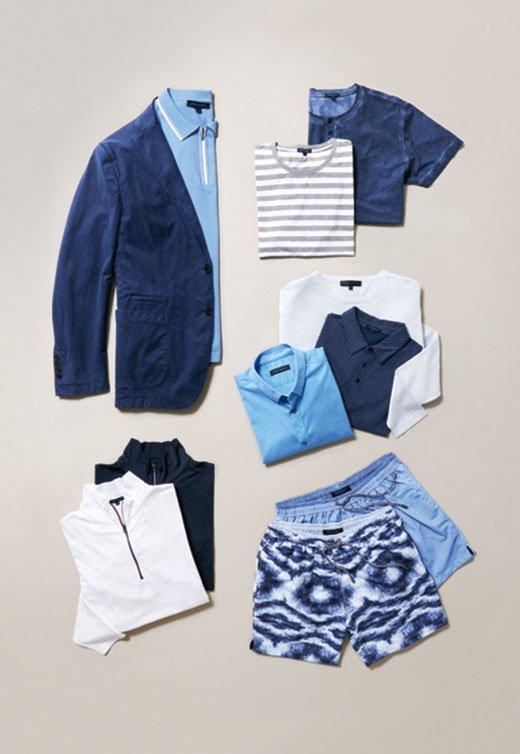 "Patrick has really come into his own signature look. It's modern and elegant, never flashy," says Belinda Yu, Harry Rosen's sportswear buyer. "These are very easy sportswear pieces. Every man can wear Patrick Assaraf clothes without having to think too hard about how to coordinate the rest of his look."
Assaraf's designs combine European aesthetics, North American sensibilities and a great deal of insight about what men are looking for. It's no coincidence that Assaraf is deeply attuned to the needs of Harry Rosen customers – he visits the stores often to consult with buyers and Clothing Advisors. "He's always looking to make the most value-added, sophisticated pieces of a particular item and improve upon what he's done," says Yu.
"Men just want to look good," says Assaraf. "That's really the focus of my way of thinking. They also want comfort – and it can't be too complicated." Versatility is another essential. "Everybody's active today, and this collection reflects that," Assaraf continues. "You can go to the air- port or you can go out to dinner and still look refined. It's easy."
Yu muses that the Patrick Assaraf customer is much like the man himself: "He's entrepreneurial, he's a globetrotter, he wants ease and elegance, and he wants good value for his money. Those are all tenets of Patrick's design process. Life is complicated enough – he takes the noise out of how a man dresses."