Spring/Summer '21
Giorgio Armani
Giorgio Armani may be in his mid-80s, but if the titan of Italian menswear is slowing in his twilight years he's not showing it. Instead, "King Giorgio" remains as dedicated as ever to bestowing his visionary aesthetic on the men of the world. This spring, Armani returns to his favourite palette of blues, greys and creams, deftly accentuated with extroverted explosions of red and purple. In addition to the opulent linens and crisp cottons he favours, this season's collection delves into an equally luxurious selection of technical fabrics and stretch blends to keep you cool and comfortable. Whether cruising on a yacht in the Aegean or simply kicking back at the cottage, Signore Armani has you expertly covered.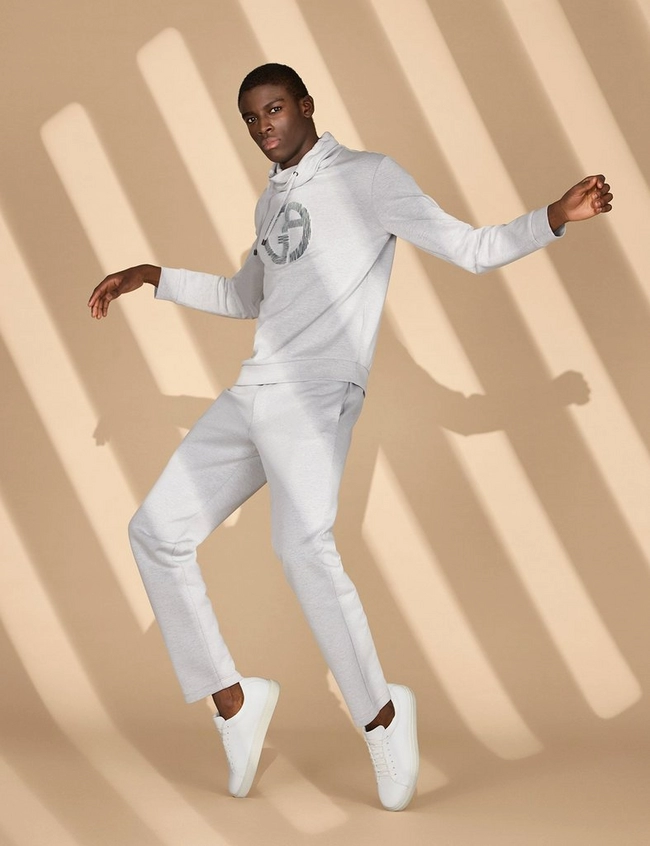 Expert craftsmanship, right-now style. Armani's roots run deep in his Italian homeland, and that means that everything bearing the august designer's name is made to the highest of standards. In Armani's expert hands, otherwise pedestrian pieces like track pants and hoodies are transformed into luxurious wardrobe staples. This is as sophisticated as loungewear gets.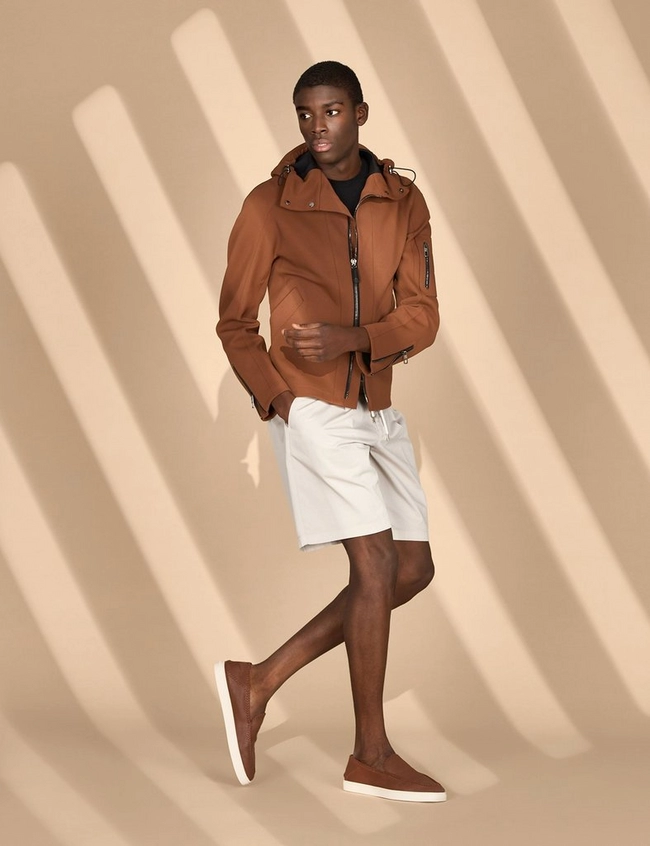 Despite his penchant for velvet tuxes, Armani's designs present a no-nonsense approach to dressing that appeals to men who appreciate style and utility in equal measure. This versatile interpretation of luxury is on display here, in the unique combination of Armani's new technical jacket with his trademark tailored pleated cotton shorts.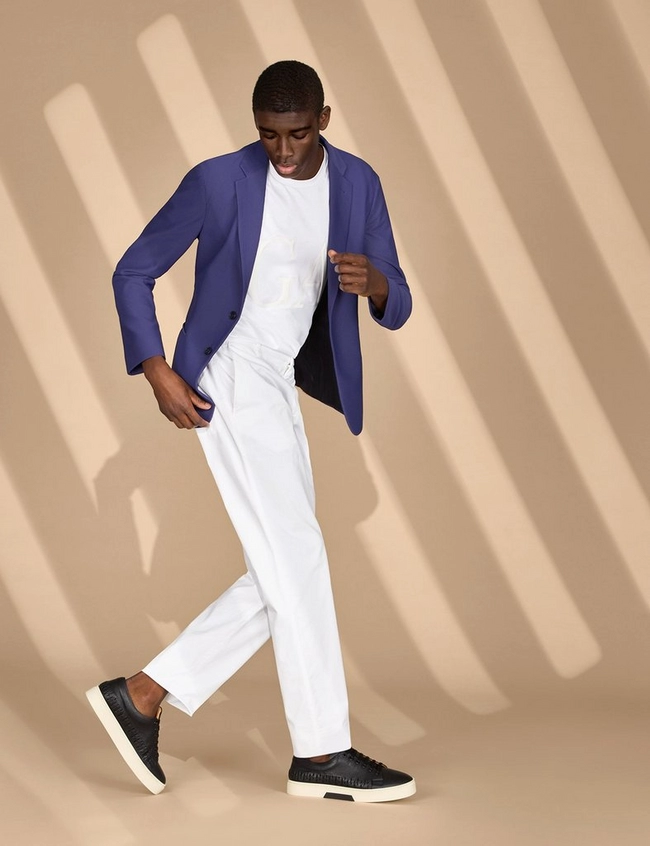 The combination of a navy blazer and white chinos is one of those things that looks as good on Canada's urban streets as it does on the Amalfi Coast. This season Armani rejuvenates these core pieces, brilliantly reimagining the classic blazer in a rich purple stretch fabric and pairing it with a crisp white logo tee, matching trousers, and sleek black sneakers.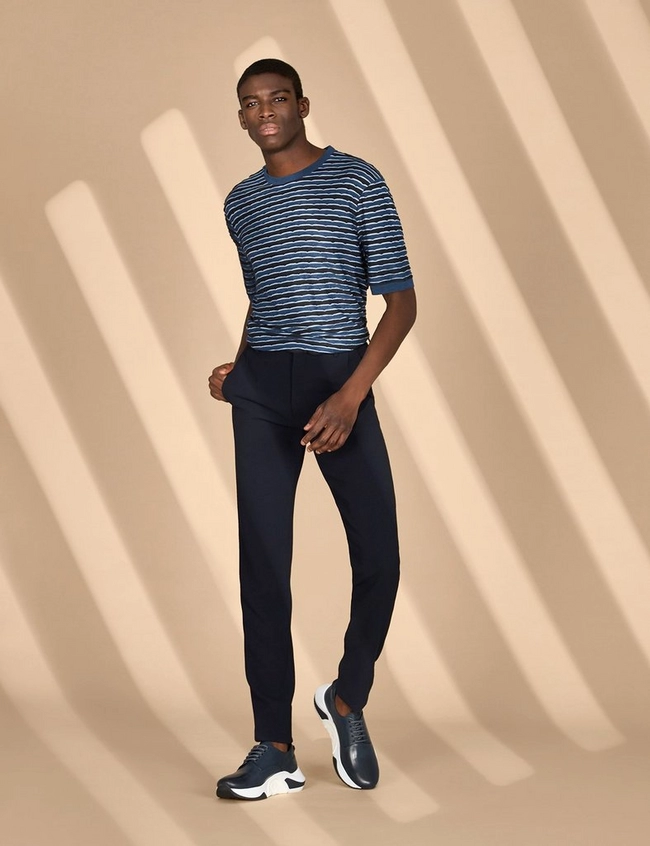 Timelessness is one of those qualities that only certain designers can attain. Armani is one of those few and his spring collection is full of pieces like these that will look just as good tomorrow as they will in a decade. Cut from jersey with a jacquard wave pattern, this maritime-inspired tee pairs effortlessly with navy pleated pants for a look that's both polished and comfortable.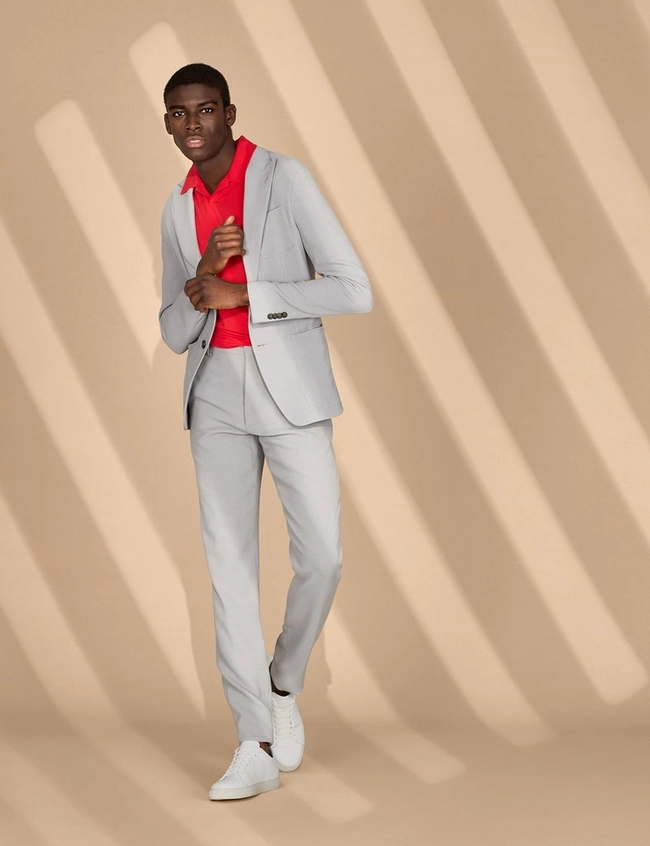 Italian sophistication is marked by a unique ability to combine contrasting elements – high and low, sport and tailoring – and still look like a million bucks. Armani schools us in just how it's done by presenting a classic lightweight summer suit in a new stretch fabric for ultimate comfort. This look perfectly captures the optimism and energy of summer.