Why Fear of God for Ermenegildo Zegna Is So Revolutionary
Masterful Italian tailoring and luxurious L.A. streetwear? They have more in common than you might think.
By: Marc Richardson
Date: 2020-09-20
Collection launching September 28 -- Available online at 10 a.m. ET and Vancouver's Harry Rosen Pacific Centre at 11 a.m. PT.
A century and nearly ten thousand kilometres separate Ermenegildo Zegna and Fear of God. The former was founded in 1910, in the small town of Trivero, at the foot of the Italian Alps; the latter in 2011, in the expansive metropolis that is Los Angeles. Their respective archives differ greatly, too—Zegna's typifying classic Italian luxury and renowned for flawless tailoring; Fear of God's emblematic of modern American luxury, with inventive silhouettes and a strong track record in basics and sneakers.
It begs the question: How do two brands—so different—come not only to work together but to create something that so accurately reflects the soul of both? It would be easy to chalk it up to the collaboration-friendly mindset that has dominated in recent years. Easy, but also incomplete. Instead, what brought Ermenegildo Zegna and Fear of God together is a shared commitment to luxury and a never-ending quest to find new avenues to explore it.
Ermenegildo Zegna's father had been a watchmaker by trade but started weaving wool in the late 1800s. It was a small operation, but it was enough to inspire Ermenegildo, who, at just 18, founded the Lanificio Zegna in 1910 with a rather lofty goal: to create the most beautiful fabrics in the world. Even in the Lanificio Zegna's early days, before globalization made such things commonplace, fibres were imported from as far away as South Africa and Mongolia, while state-of-the-art equipment was imported from England—then the global leader in the manufacturing industry.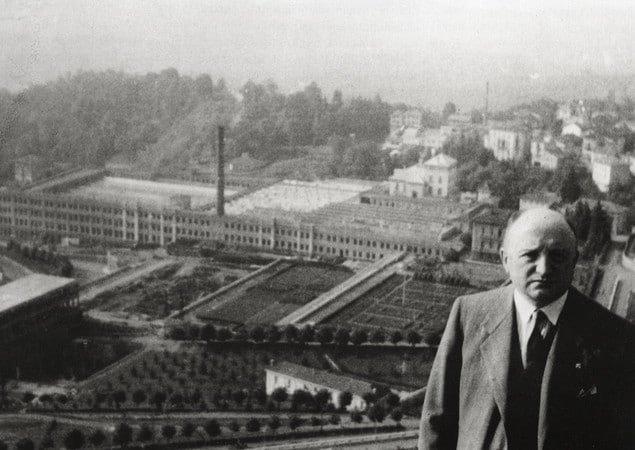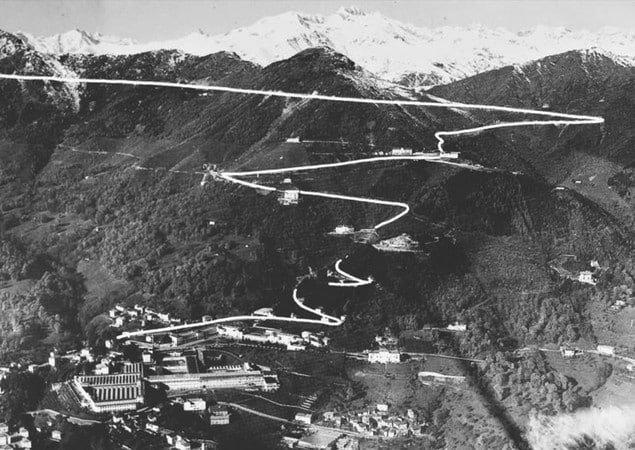 Historic photos of Ermenegildo Zegna in Trivero.
Even with an eye on the world, Trivero, the small Italian town in Northern Italy where the Zegna family was from, was central to Ermenegildo's plans. For one, the water there is supremely soft, which makes it ideal for washing and preparing the fibres for manufacturing. Also important, and unique to Trivero were the more than 700 workers under his employ. Trivero became a project of sort for Ermenegildo and he invested heavily throughout the 1930s in creating facilities for the town's residents and workers—a school, a hospital, a road, a reforestation project. (Later, Ermenegildo's children would carry on this investment in Trivero, building, among other things, residential housing and a ski resort.)
It was also in the '30s that the fabrics emerging from Trivero began to earn recognition the world over. Ermenegildo travelled to New York and introduced them to Italian-American tailors. The United States became Zegna's second frontier, with the Zegna Woollens Corporation established to distributed fabrics stateside in a more organized fashion. By the mid-'40s, Ermenegildo's internationally-sourced, Trivero-manufactured fabrics were world-renowned—winning prizes and distributed in more than 40 countries.
Ermenegildo's influence and role in growing the Zegna brand is undeniable. Of course, the danger would have been that, without the brand's namesake, Zegna would slowly deteriorate; without his passion, would the company still be able to set itself apart? But Ermenegildo was intent on giving his children—and their children after them—something to carry on. He took painstaking notes about the blends and techniques used to create each of Zegna's fine fabrics; he also kept notes relating to the business's development, like the names of tailors and representatives abroad and marketing strategies. Most importantly, though, he introduced his children to the business at a young age, allowing them to familiarize themselves with the operation before their turn came to run it.
Under Ermenegildo, Zegna was considered to be among the world's finest fabric purveyors—but it remained just that, a company that supplied other labels and tailors with materials. After Ermenegildo's death in 1966, his sons Angelo and Aldo oversaw Zegna as it entered the ready-to-wear realm in 1968, before launching Su Misura, a made-to-measure program, in 1972. That was followed, in the '80s, by the opening of the first Zegna boutiques. The shift to ready-to-wear and retail marked the birth of Zegna as we currently know it.
"This independence and continuity are one of the similarities Fear of God shares with Ermenegildo Zegna. That and a never-ending pursuit to be the standard-bearer in luxury."
But that never happened.
The group is now fully vertically-integrated, with stakes in sheep farms, multiple manufacturing facilities and a worldwide distribution network. It's still family-owned and run, with third-generation Gildo Zegna occupying the role of CEO, while the fourth generation of Zegnas is slowly integrating the company, too. There is one notably important role occupied by a non-Zegna—that of artistic director, held since 2016 by Alessandro Sartori. Though for someone outside the family, the ties don't get much deeper: Sartori was born and raised in Trivero, and his first job after graduating from the Istituto Marangoni in 1989 was at Zegna. Sartori embodies the new Zegna, one that has continued to move forward, while still honouring its traditions.
It's Sartori who was introduced to Jerry Lorenzo in late 2018. Lorenzo is the man behind Fear of God, one of the most successful brands in the new wave of American luxury. In many respects, Lorenzo typifies the modern American luxury movement. The son of a professional baseball player and award-winning manager, Lorenzo is not a classically-trained designer—but, then again, who is these days?—and has an extensive network of famous friends ranging from athletes to musicians.
Lorenzo studied business, completing his MBA at Loyola Marymount before handling sponsorships and partnerships for the Los Angeles Dodgers. After a brief stint at an agency, he returned to Los Angeles to manage then-Dodger Matt Kemp, in 2008. Lorenzo was responsible for Kemp's appearance—an integral part of any athlete's brand in this day and age—and found that many of the pieces he wanted for Kemp were either hard to come by or non-existent. So he found ways to make them. In this sense, Lorenzo is more of a curator and problem-solver than a designer: seeing something missing, or a new way to think about a garment we've been staring at for decades.
By 2011, Lorenzo was prepared to wager the profits he had made from other business ventures on filling the gaps in the modern wardrobe—he figured that if he were looking for something that wasn't out there, others would be, too. Lorenzo's fledgling brand started with two key pieces: a short-sleeved hoodie with zippers along the sides and an elongated, loose-fitting T-shirt. Those two pieces allowed Lorenzo to catch the attention of Kanye West, for whom he would go on to act as a design consultant for tour merchandise and West's other fashion pursuits.
It wasn't until 2013 that Lorenzo was ready to launch Fear of God's First Collection, a 12-piece offering that included the aforementioned hoodie and T-shirt at the fore. On the one hand, the two years had allowed Lorenzo to become a familiar face in West's entourage—something that certainly created interest in the brand among West's passionate fans. On the other hand, the time elapsed speaks to Lorenzo's commitment to doing things the right way, with painstaking research and sampling, even when that takes time.
Ironically, not being constant in its pace has been a regular for Fear of God as the brand has evolved. The collections, rather than adhering to the traditional fashion calendar (Spring/Summer and Fall/Winter), have come when Lorenzo deems them ready, named not for when they release, but the order they release. The brand just released its Seventh Collection, thus averaging about one collection per year since its inception—though, for context, the Sixth Collection debuted in September 2018, nearly two years before.
In a mere seven collections, Fear of God's growth has been extraordinary, going from a luxurious take on grunge-tinged streetwear in the earliest collections to a more mature offering composed of leather jackets, relaxed tailoring and history-infused sportswear. Though, crucially, even as the collections have gotten more mature, they've maintained their footing in contemporary style—thus explaining the brand's label as the expert in "new-American-luxury", as per Vogue.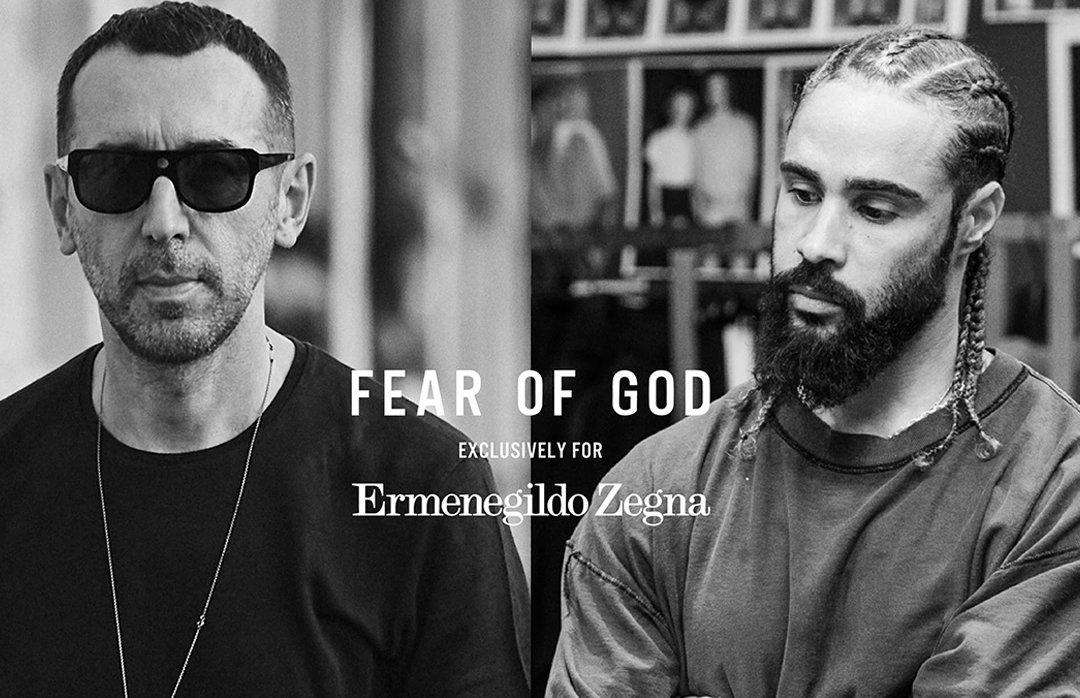 Zegna Artistic Director Alessandro Sartori and Fear of God Founder Jerry Lorenzo
Despite the growth of Fear of God—and the brand's immense success—it remains wholly independent, run by Lorenzo and a small Los Angeles-based team. This independence and continuity are one of the similarities it shares with Ermenegildo Zegna. That and a never-ending pursuit to be the standard-bearer in luxury.
If the two brands are aligned in ethos, then aesthetically, Fear of God and Ermenegildo Zegna are quite different. Lorenzo, himself, admitted as much when this collaboration was first announced. But that is what makes it such a remarkable and unique endeavour. The collection features an eclectic blend of materials and silhouettes—one that makes it hard to find a label that does justice. Some of the pieces seem inspired by the '80s and '90s, jackets with low buttons and more relaxed cuts; others are undeniably contemporary, in the form of slim trousers; some would be categorized as tailoring, others sportswear and others, still, workwear. But even then, those labels don't seem to do the pieces justice: a T-shirt bears the Zegna wordmark, a tracksuit is crafted from silk, what look to be beautifully marled wool trousers more closely resemble sweatpants.
Collaborations are nothing new for either Fear of God or Ermenegildo Zegna. The former has been a highly sought after partner in recent years, considering Lorenzo's profile and the brand's tremendous commercial success. Nike tapped Lorenzo to design a range of new silhouettes—an incredibly rare occurrence for the Oregon-based sportswear brand—and Vans, too, has turned to Fear of God for regular collaborations. Zegna, since its inception, has been the go-to name for tailors and luxury brands looking for the finest fabrics in the world—Italian-American tailors from the '30s onwards, then other Italian luxury brands like Gucci and Armani in the '80s and '90s, and most recently Thom Browne. In other words: this was not a project born simply because collaborations have been "trending" of late; true collaboration is an idea that is at the heart of both brands.
Be that as it may, neither has undertaken a collaboration quite like this. In fact, the menswear industry writ large hasn't seen anything quite like this—a coming together of brands at once so different and so alike. A century and nearly ten thousand kilometres still separate Ermenegildo Zegna and Fear of God. But other than that, it seems like very little does when taking stock of what they've created together. Brands are uniting different generations of customers, different ideas of luxury and different aesthetics—but doing it so seamlessly that it's hard to notice the differences.
---
Marc Richardson is a fashion writer and photographer based in Montreal. His work has appeared on Fashionista, Grailed and Garage Magazine. Follow him on Twitter.
---