Dress Like A Pro: An interview with Ryan O'Rielly
The Stanley Cup winner on winning the Stanley Cup, BOSS suits and NHL style.
By: BEN KRIZ
Date: 2019-09-25
We recently invited current and former NHLers to Harry Rosen to try on the latest styles from BOSS. Fresh off his Stanley Cup win with the St. Louis Blues, Ryan O'Reilly opted for a statement suit in a blue double-breasted jacket with trim, tapered trousers. We sat down with him after the photoshoot to talk about his summer of celebrating, how his style has changed since he was a rookie and what he looks for when getting dressed to go to work.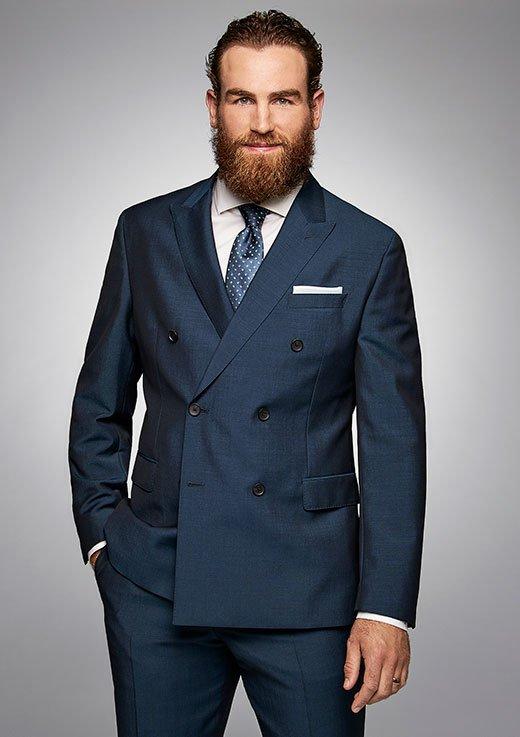 It was a crazy summer for you! Have you had time to reflect on the fact that you actually won the Stanley Cup?
Yeah, for sure! It's crazy how you go from just taking it one game at a time—even one period at a time—and the next thing you know, you win it! Then it's just a blur—there are so many things you have to do and places to go; you're just celebrating and enjoying it.
To bring it back to my hometown in Heron County (which is small-town farm country two and a half hours west of Toronto), it's where I fell in love with the game. To go back there and see all the people that helped my career...to be back and to share it with them and see the reactions and that they were such a big part of it was so cool. It makes you see why winning is so important.
You're relaxing in your golf attire right now but back to the regular season when it's game day, what are you looking to wear?
I usually look for basic things like navies. That's my go-to and then will occasionally branch out and find stuff that's a little more unique. The cut and the taper of the pant is a big thing for me. It can be tough with the hockey body to find what I like. I like to experiment with different patterns, but I am drawn towards blues and more muted colours.
As you've been in the league a little while now, have you found your interest in getting dressed up has increased over time? In your first year, I would imagine you're just trying to pull it all together.
Yeah, the first couple of years, especially in Junior, you're just taking anything you can get your hands on. Then you get drafted, and you might get a little bit of money and you still kind of feel like, okay I've got to up my game a bit. It took me a few years to really understand what I liked and felt comfortable in.
Were the older guys hassling you at all back then for your poor style choices?
[Laughs]. Well, usually those guys are okay because they were once in that situation. Nobody comes into the locker room in the first year and knows exactly what they like in a suit. It usually takes some time. Usually, the veterans will try and guide you in the right way. And you'll be looking at them seeing how they're pulling things off and taking notes. I think it's one of the cool things about hockey and the NHL is that it's mandatory to wear suits to the game.
Does dressing up get you in the zone?
Yeah, it's like you're going to a special occasion, it's for a time and it's for a reason. It's like business, you're going to work, and you've got to look sharp
What about around the NHL or other leagues? Are you checking out what they're doing?
Yeah, for sure. A guy like Henrik Lundqvist is known for his suits. We had a chance to go to the ESPY Awards so we got to see all these guys from basketball and football and check out their unique style. We hockey guys tend to be a little more subtle, but it's awesome to see that [expressive way of dressing] starting to creep into hockey.
Can you give us one personal style tip?
I think there are so many styles out there and you have to find the right thing that shapes your body in the best way. I've seen some guys spend a ton of money on this high-end stuff that's not cut for their body, and then you'll see somebody spend less money on something that fits and it looks a hundred times better. Start with fit
So how's this BOSS suit fitting then?
It's really nice! I've had BOSS suits in the past, and with this one I love the double-breasted style for a more old school look. I feel great.
Any personal goals for the upcoming season?
Obviously, the main one is to repeat. It's funny how you win the Cup and summer is over, and it's you want it again. I feel like it's ours and we want to keep it. So that's the mindset—why not? It has been done before. Personally, I want to contribute more, and I think there are always more things to work on to change my game, so I'm hoping to dive right into that at the start of the season.