Designer Lookbook: Spring Fresh
Discover an exceptional laundry list of designer new arrivals with the latest looks from Neil Barrett, Thom Browne, Dolce & Gabbana, and more.
So fresh and so clean. That's the spirit of this spring's designer collections. Look for pieces that are easy-wearing with smart details like timeless bombers and statement knits, trim cargo pants and lightweight sneakers — even tailoring that's outside the conventional in Thom Browne's signature shrunken suit. When considering your approach to spring dressing, we certainly don't want you hung out to dry with outdated style. Get inspired by six of our favourite looks from the current season.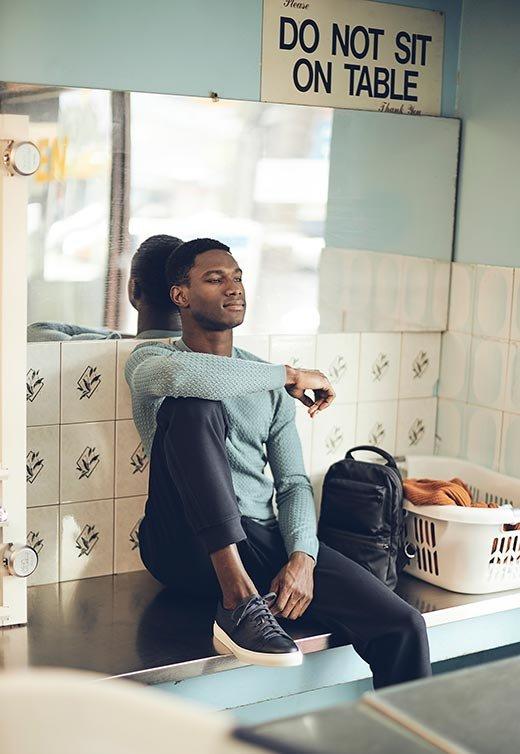 Emporio Armani enters the season with its usual avant-garde yet functional sportswear styles. This textured seafoam sweater is crafted from a light, stretchy technical jersey and is ideal for layering over a T-shirt and beneath a jacket on cooler days.
Thom Browne has a strong foundation when it comes to tailoring, but the New York label's suiting is anything but traditional. Shrunken and form-fitting, it has a certain youthful irreverence. Think of it as a suit for the not suit-wearer.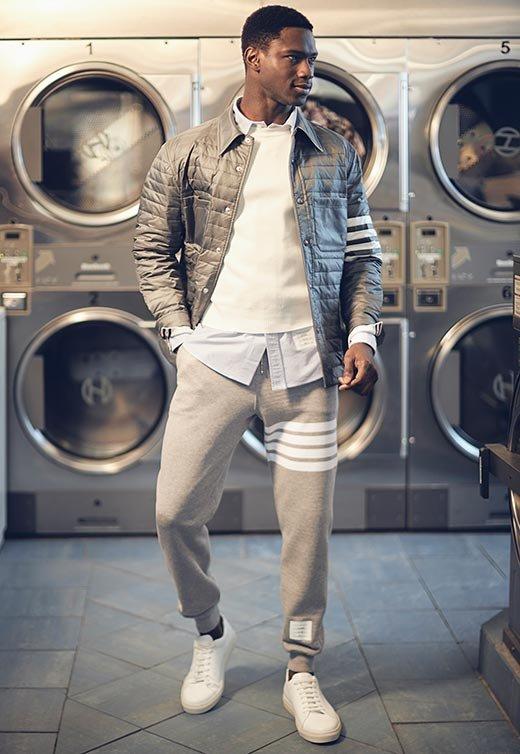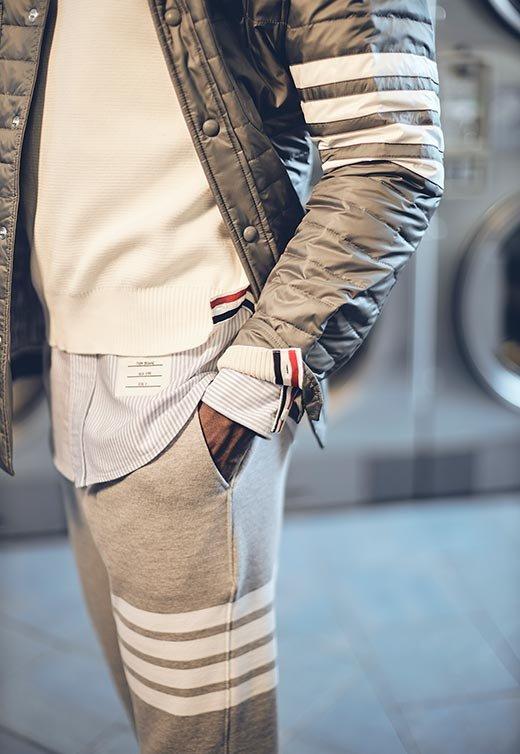 We love an overshirt. Especially Thom Browne's eye-catching take on it. With its relaxed fit, precise quilting and insulating down filling, it will keep you warm as well as cozy when paired with the label's tapered four-stripe joggers. Finish off the look with clean white low-tops, and you're only a few championship rings away from a LeBron James-level outfit.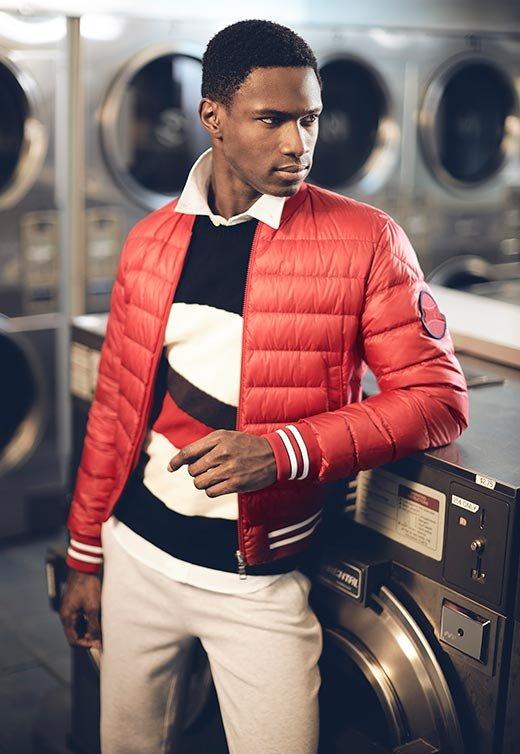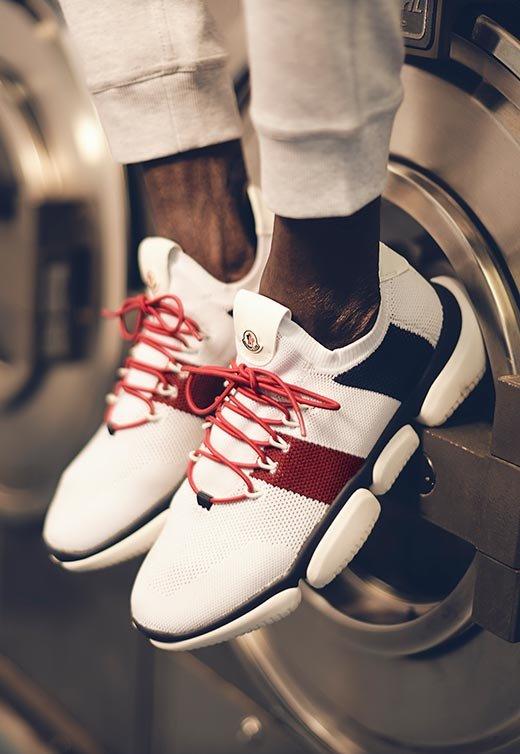 Layering is vital in these erratic spring months. Moncler's sleek and slim puffer jacket provides all the insulation you need. Too warm? Doff the puffer and reveal a bold modernist crew neck that's sure to turn heads in the best way possible. Finished with tasteful joggers and sneakers, the outfit has you ready for whatever the spring weather throws your way.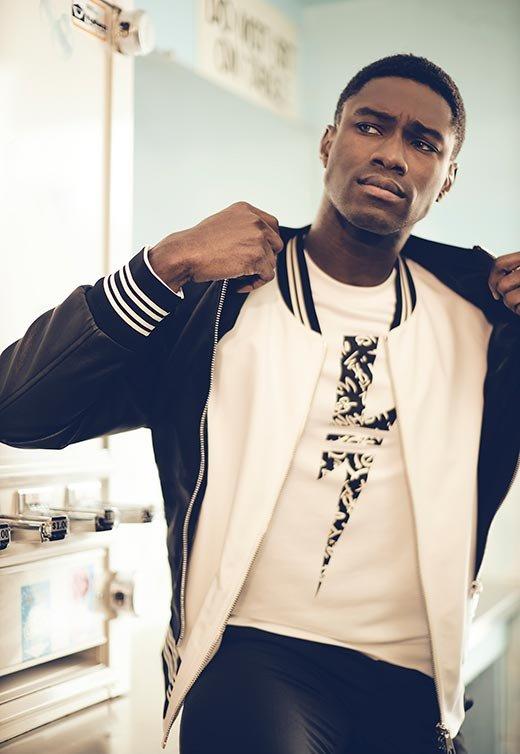 The bomber jacket will never go out of style, and in Neil Barrett's hands, that remains true even when updated with sporty detailing. Layer it over the London designer's bold-yet-minimal lightning bolt graphics to bring an edge (and likely many a compliment) to an otherwise muted going-out look.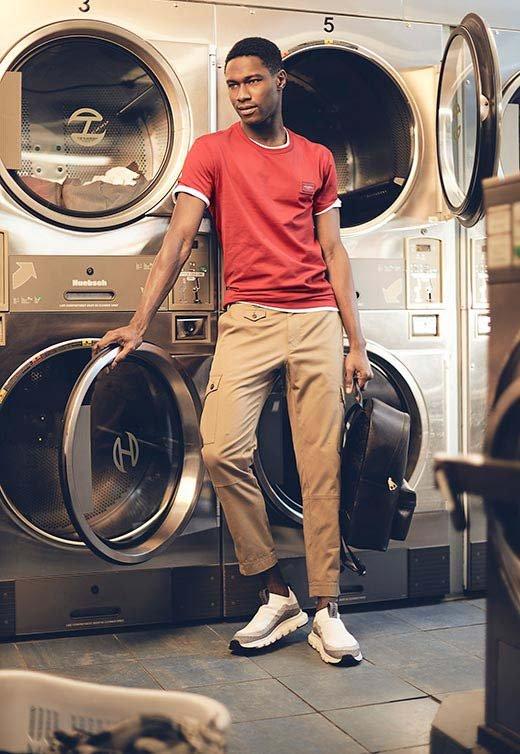 For your off-duty hours, it's the classics that will carry you through the season. But look closer— these essentials have been refined. Despite the many pockets, Dolce & Gabbana's cargo pants remain streamlined. Pair them with lightweight sneakers and a pure cotton T-shirt that hugs you in all the right places, and even your most casual of days will have you looking smart.