Suits and Sports Jackets That Will Take You the Distance
By: HARRY ROSEN EDITORS
Date: 2019-10-30
Whether dashing through the terminal or simply taking a load off in the member lounge, you need clothing that moves with you. Here are this season's ultimate in travel tailoring that will have you suiting up and flying right, ensuring you arrive looking as put together as when you left.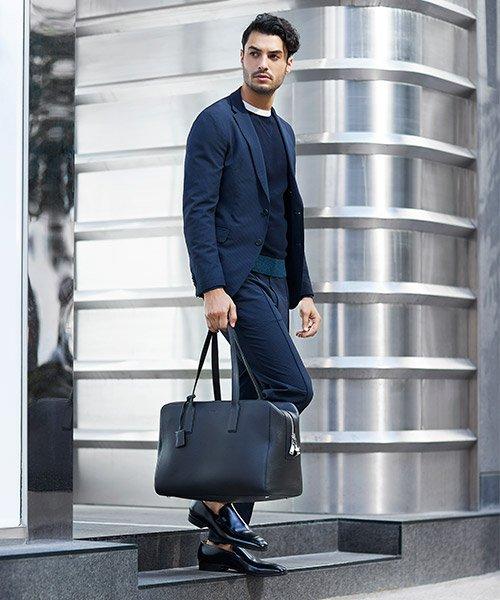 ZEGNA High Performance Packaway Suit
Impeccable tailoring and luxurious details are givens when Zegna is involved, but what sets its new Packaway suit apart is its high-performance, pure-wool fabric. The yarn is twisted in a particular way as it's woven into cloth, giving the finished fabric extraordinary memory. Your suit bounces back into shape even after it has been folded away into its own compact case for easy stowing.
ZEGNA Wash & Go Suit
Another great Zegna option is the label's sharp Wash & Go suit which is crafted from Techmerino™ wool that contains natural stretch for optimal movement. But best of all, you can skip the dry cleaner—this suit is machine-wash friendly (in cold water on the delicate setting) and even after multiple washes the garment's fabric, performance and shape holds strong. It's an astute option for the business traveller that's easy to take care of.
Boss Packable Sports Jacket
Totally unlined and tailored in a micro-patterned synthetic fabric that minimizes wrinkling, this jacket folds away into its own pouch—an ideal solution for the expert traveller (or even a man who prefers to bike to work). This jacket is guaranteed to settle into a wrinkle-free state within two hours of unpacking (without ironing or steaming). You'll get from A to B very smoothly indeed.
Atelier Munro High Performance Stretch-Crepe Suit
This handsome suit from Atelier Munro also makes for a trustworthy travel option. The slim-fitting two-piece is crafted from supple checked wool, woven in Italy by Angelico (a mill in the Biella region run by a 13th generation family). The fabric is made from a resilient double-twisted wool flannel that springs back into its original shape. With a suppressed waist, high arm-holes and a striking peak lapel, it will carry you from the window seat to the boardroom in style. It's available in ready-to-wear, but as is Atelier Munro's modus operandi, this fabric can be fashioned into a custom-made suit or sports jacket with all the details made uniquely for you.
Canali Kei "Impeccable" Suit
We've been admirers of Canali's iconic Kei suits and sports jacket for some time now what with the model's soft shoulder, partial lining and easy-going outlook. It was already a great option for travelling, but Canali has made it even more essential by infusing the shape with its most technologically advanced fabric.
Canali's "Impeccable" fabric (made from superfine wool) features natural stretch and crease-resistant properties, offers exceptional lightness and breathability and is treated to render the suit water-resistant! If that wasn't enough, it also has an eco-friendly treatment that resists stains. This is a travel suit that will shake off anything.
Samuelsohn "Michael" Travel Sports Jacket
Like many of the suits listed here, Samuelsohn's entry into travel tailoring is made from a buoyant material that bounces back when wrinkled. It's also unlined for a versatile and relaxed vibe. But the Montreal-based tailoring label has also thrown in some special travel bell-and-whistles, including a pocket designed especially for your phone, internal zip pockets, a passport holder. Don't leave home without it.