Investment Pieces: How to Build A Better Wardrobe
8 Versatile basics that will help you build refresh your closet.
The early weeks of a new year are a great time to plan ahead. Since we're optimistic about the coming year, why not get your closet ready with these Harry Rosen-approved wardrobe essentials?
Looking good is about two very basic things. First, your clothes should suit your body, your personal style and the places you'll wear them the most. Second, they should be (at least generally speaking) in step with the times. This doesn't have to mean embracing every trend or wearing entire runway looks, however. Instead, it's about playing the long game and investing in a few well-made, versatile basics that will become the foundation on which the rest of your wardrobe can be built. Start with these essential pieces, all of which are long on wearability, adaptability and longevity –– for 2021 and beyond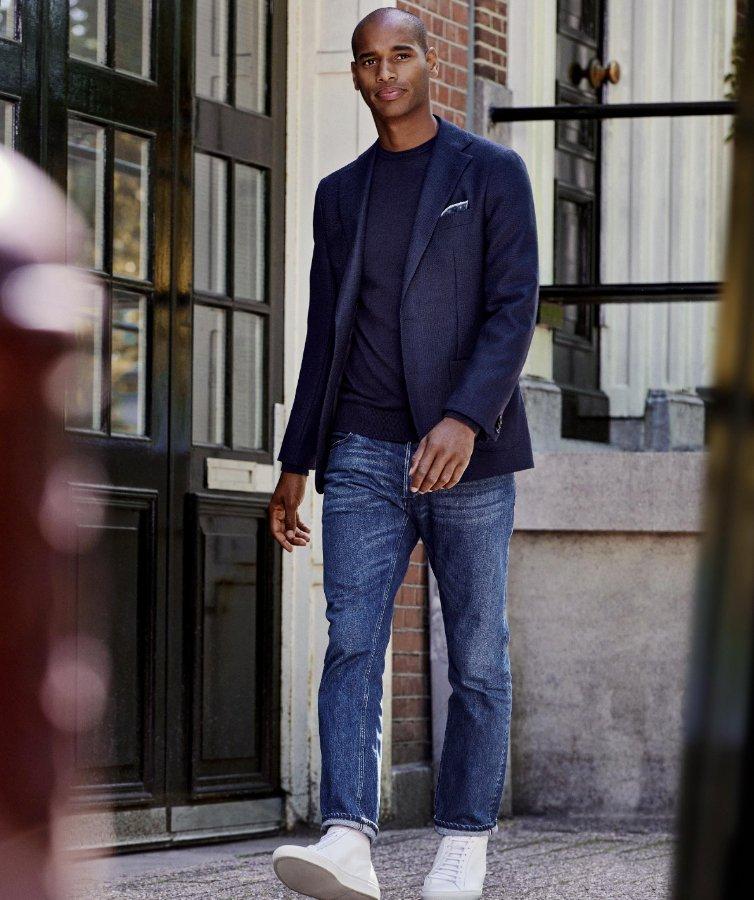 Featured: Ready-to-wear styles from Atelier Munro.
A Navy Sports Jacket
A well-rounded wardrobe is going to contain a lot of different suit jackets, blazers and sport jackets, but none of them will see as much use as your favourite navy sports jacket. Why? Because a navy sports jacket is pretty much the easiest, most adaptable piece of tailored clothing you can buy. Just throw it on over a t-shirt, a button-down or a crew-neck sweater, and your outfit instantly gets several degrees more polished.
A Quality Shirt
A classic dress shirt is your default option when wearing a sports jacket, so you may as well opt for superiority.  High-quality cotton adds longevity to a dress shirt and when paired with masterful cuts and stitching that ensure a perfect fit, it will move naturally with your body. A good shirt is all in the details and, when taken care of, could last you up to 15 years!
All-Purpose Knits
Knitwear is a key component of any man's wardrobe. A variety of basics from T-shirts to polos to Henleys will help you pull together your layering game with comfort and versatility. As a man's wardrobe continues to evolve, these pieces can take anywhere. Wear them on their own at home and in more casual settings, or add a sports jacket to elevate them for smarter occasions.
A Pair of Dark Denim Jeans
There's a good reason that blue jeans are the most popular piece of clothing ever created. Aside from being tough and comfortable, they are among the most versatile things you can have in your closet. While there are a truly mind-boggling variety of styles, colours, washes and embellishments to choose from, there's only one kind style you need: dark indigo and medium-weight, slim but not skinny with just a little bit of stretch. Like a good friend, they'll be there for you, whatever the occasion. Throw them on with sneakers and a sweatshirt for comfy weekend wear, or dress them up with loafers, a blazer and a soft button-down for a night on the town.
A Pair of Refined Sneakers
Sneakers have come a long way in the last few decades. After migrating from the sports field to the fashion world's highest echelons, they are now completely acceptable footwear pretty much anywhere you'd want to go. Unlike its colourful and high-tech athletic relative, the go-anywhere sneaker is all about subtlety and refinement. Look for something in a solid colour with minimal embellishment – all the better to coordinate with your other essential wardrobe pieces – and be amazed at its versatility.
A Pair of Loafers
For a shoe with a name that denotes idleness, a good pair of loafers can be a surprisingly hardworking piece of footwear. Not only will they look great with a suit, they'll also accessorize smartly with a whole raft of other looks, from chinos and a polo to jeans and a sports jacket. And all this without ever having to bend over to tie your laces. Other shoes ought to take notes.
An Overcoat
Living in Canada means dressing for winter, but dressing for winter doesn't have to mean leaving your style at the door. To keep warm without sacrificing polish, opt for an overcoat with zip-out inserts. Long enough to cover your suit jacket and versatile enough to adapt to a wide range of conditions, this ingenious garment will keep you looking great (and protected from the elements) from fall to spring.
A Half-Zip Pullover Sweater
This hybrid of a cardigan and a crew-neck sweater combines both of its parents' strong suits while adding its own unique personality to the mix. Like a cardigan, this can be easily worn with a button-down and tie, or layered under a jacket for an office-approved look. And like a crew-neck, this adventurous garment is ready to tackle late-season boat rides, winter hikes or cozy days reading a book by the fire.
Jeremy Freed is a Toronto-based freelance journalist. His writing about menswear, travel, design and sustainability appears in Sharp, GQ, the Globe and Mail and many more.