Game-Changer
Munro's CustomMade program suits three NHL stars for the win.
By: JEREMY FREED
Date: 2018-03-20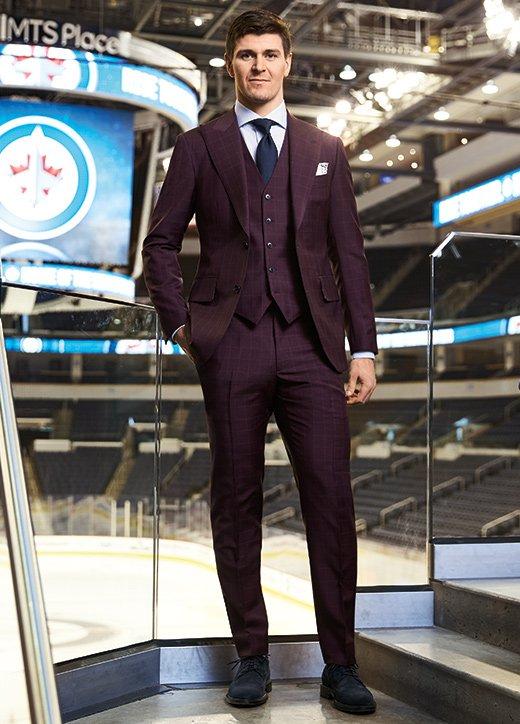 MARK SCHEIFELE
As Featured: Suit (MS0083); Shirt (Shirt092); Tie (TGREN005); Pocket Square (PLIN004); Shoes (SDE09)*
According to Jason Neufeld, Suiting Specialist at Harry Rosen's Polo Park store in Winnipeg, there are two types of men who tend to choose made-to-measure suits. "There's a guy who wants a more specific fit, and there's a guy who wants more selection," Neufeld says. Winnipeg Jets centre Mark Scheifele wanted both, and that made him the perfect candidate for a CustomMade suit by Atelier Munro Amsterdam.
"Mark came in wanting something that hadn't been done before," says Neufeld, adding that Scheifele's frame is too muscular for most off-the-rack suits. Thanks to Munro's CustomMade program, an unparalleled customization process featuring hundreds of high-quality fabrics and countless detail combinations, Neufeld was able to offer Schiefele something unique, with a perfect fit, in just four weeks. This was also the case for Toronto Maple Leafs left-winger James van Riemsdyk and Montreal Canadiens left-winger Max Pacioretty, both of whom are now proud Munro customers, too.
JAMES VAN RIEMSDYK
As Featured: Suit (MS0077); Shirt (Shirt165); Tie (TS402); Pocket Square (PLIN004); Shoes (CAL03)*
"I love a suit I can move in. Something sharp and close to the body, yet flexible and comfortable," van Riemsdyk told Adam Gallo, Buyer at Harry Rosen's Bloor Street store in Toronto. "Our reply was, 'No problem!'" says Gallo cheerfully. The result was a suit in a striking Neapolitan blue Loro Piana fabric, with notch lapels, surgeon's cuffs and the nickname "REEMER" monogrammed beneath the collar. With 2% elastane in the fabric, the suit was the perfect combination of fit, finish and flair.
"*When you wear a suit and you wear it the right way, \ I think it says a lot about a person."*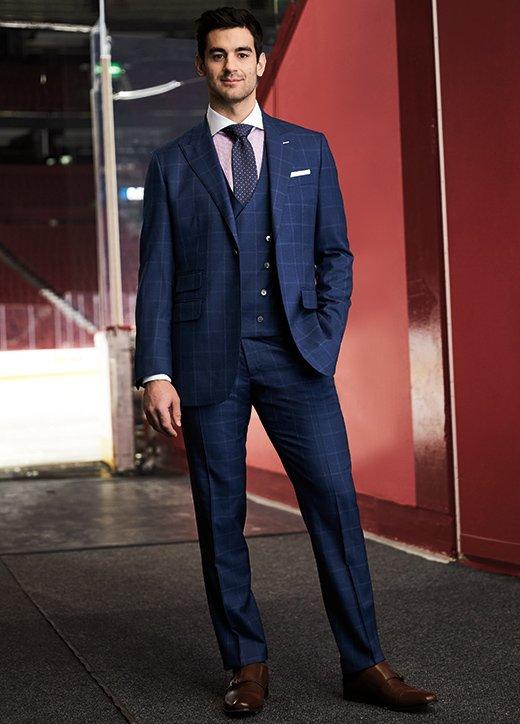 MAX PACIORETTY
As Featured: Suit (LAM13033); Shirt (SHC031); Tie (TSILK004); Pocket Square (PLIN003); Shoes (CAL03)*
With over 20 suits in his wardrobe already, Max Pacioretty was equally discerning. "He wanted something with a little twist," recalls Clothing Advisor Mikael Gendron, who helped the player select a blue sharkskin ensemble with mother-of-pearl buttons and a double-breasted waistcoat—a truly show-stopping combination.
NHL fans admire these players for their prowess on the rink. Now, with an assist from Munro, they can express themselves off the ice, too.
To experience Atelier Munro CustomMade for yourself, visit us in-store. You can create a three-piece suit like Scheifele, van Riemsdyk and Pacioretty, or choose a two-piece suit or a sports jacket and pant combination. Suits start from $895; jackets from $695.